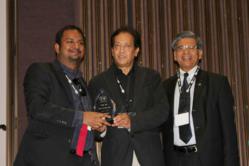 Since the awards' inception in May 2009 - 94% of the winners & finalists have been funded, attracting over US$20 billion in investments. More than 110 TiE 50 winners have been acquired merged or went public with successful exits.
Santa Clara, California (PRWEB) June 13, 2013
TiEcon 2013 its flagship annual event is the world's largest conference for entrepreneurs and intrapreneurs. This year's edition of the event attracted more than 3,700 attendees from across the world - including CEOs of established companies, entrepreneurs, media, venture capitalists, corporate executives, speakers & sponsors from across the technology world.
TiE50 is TiE Silicon Valley's premier annual awards program contested by technology startups worldwide. Since the awards' inception in May 2009, 94% of the winners and finalists have been funded, attracting over US$20 billion in investments. More than 110 TiE50 winners have been acquired merged or went public in the past four years alone with successful exits.
"It's a great honor to win the TiE 50 award – especially in Silicon Valley, which is a hot bed for innovative and exciting companies, entrepreneurs who inspired us over the years," said Maddy Reddy, CEO & Founder of Content Syndicate. "Winning this award validates our vision and goal to help create, localize and license content at scale for content marketing and editorial needs. "
Speaking to a global audience at the awards ceremony at TiEcon 2013, conference Chairman & President of TiE Silicon Valley, Venkatesh Shukla said, "The TiE50 program screened 1142 companies from 24 countries. 50 best-of-breed companies [such as Content Syndicate] were announced winners."
The awards ceremony was hosted by TiEcon Chairman & TiE SV President Venk Shukla and TiE Global Trustee Vish Mishra (Venture Director at Clearstone); the guests of honor who gave away the awards were Arvind Sodhani, President of Intel Capital and Kumar Malavalli Founder of Brocade Communications.
The TiE 50 selection process involved meticulous planning, screening and judging by a team of prominent entrepreneurs, VCs, corporate executives and domain experts. Participating companies competed in two rounds across six categories - internet, mobile, life sciences, software and energy. Fifty were selected from a total pool of 1142 companies - representing the top 5 percentile globally. Winners were selected based on the leadership team, IP, scalability, potential, track record, business model & presentation.
"Over the past four years, TiE50 has gained global acclaim attracting startups from all over the world. TiE50 as a brand has gained much recognition amongst the VC and angel investor communities – particularly in the Silicon Valley," said Program Chair Ram K. Reddy.
>About Content Syndicate:
Content Syndicate is a cloud-based B2B platform that facilitates buying, selling, commissioning and localizing content at scale in over 200 languages for corporates, agencies, SMEs and publishers. Directly and via partners, it works with over 1000 content partners, over 350+ corporate clients in over 14 countries and sold over 20 million words till date with a syndicate of tens and thousands of content providers from around the world.
Founded in 2007, by an ex-technology Editor, the Company is venture funded with presence in the US, UAE and India and expansion plans into other markets.
For more information, please visit http://www.contentsyndicate.com
>About TiE:
Founded in 1992, TiE (http://www.tie.org) is a global, not-for-profit network of entrepreneurs & professionals dedicated to the advancement of entrepreneurship. TiE provides a platform for mentoring, networking and education for technology entrepreneurs worldwide. It has a global network of 54 chapters located in most major North American, Asian, Middle East and European cities with more than 14,000 members spread across 13 countries.
For more information on TiEcon & TiE 50, please visit http://www.tiecon.org and http://www.tie50.net
'Content Syndicate' its logo, moniker and tagline 'Words on Demand' are the registered trademarks of Content Syndicate Holdings in the United States and certain other countries. All other trademarks, mentioned or otherwise are the property of their respective owners.