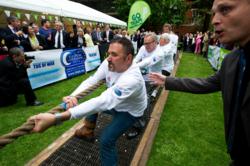 Tonight's event will raise enough to cover the costs of two Macmillan nurses for one year.
London, UK (PRWEB UK) 12 June 2013
The European Azerbaijan Society (TEAS) was one of the main sponsors for the 26th annual Macmillan Parliamentary Tug of War competition on 11 June. Pitting the brute strength of both male and female teams from around the UK against each other, the event culminated with a competition between the House of Lords and House of Commons – the upper and lower houses of the UK Parliament – eventually being won by the Commons' team. The event was in aid of Macmillan Cancer Support, which provides invaluable healthcare, information and financial support to those living with cancer and their families. This year's event raised an estimated £120,000.
Julia Palca, Chair, Macmillan Cancer Support, said: "This is the 26th annual Parliamentary Tug of War event. Macmillan provides the support and treatment to the 2m people affected by cancer in the UK each year. This figure is expected to double by 2030, and it is now estimated that 47 per cent of UK citizens will be diagnosed with cancer at some point in their lives. The good news is that, of these, 40 per cent will survive. But that means there are more complex challenges for Macmillan nurses."
Lynda Thomas, Fundraising Director, Macmillan Cancer Support, commented: "Over the past 26 years, this event has raised £3m for Macmillan. It's always a very popular event. There are four main sponsors this year – Taylor Wimpey, Marks & Spencer, BAE Systems and, for the first time, TEAS. With increasing numbers of people surviving cancer, there is more work for Macmillan nurses. Tonight's event will raise enough to cover the costs of two Macmillan nurses for one year and improve the lives of those living with cancer."
The ancient sport of Tug of War originated in ancient Egypt and China, although it achieved popularity in the UK from the 16th century. It is now a staple element of traditional life throughout English towns and cities. The sport's popularity extends to Azerbaijan, where young men prove that they have achieved manhood by participating in such competitions.
Notes for Editors: TEAS is a UK-registered pan-European organisation dedicated to raising awareness of Azerbaijan and fostering closer economic, political and cultural links between that country and the nations of Europe.
As well as promoting the positive aspects of Azerbaijan, TEAS also highlights the plight of the 875,000 refugees and Internally Displaced Persons within the country. These people are unable to return to their homes and lands because of the illegal occupation of Nagorno-Karabakh and seven surrounding regions by Armenian armed forces – in defiance of four UN Security Council resolutions.