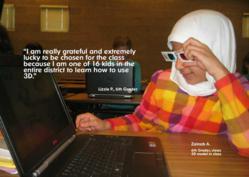 Feedback from our student's parents are that their kids are truly excited about what they are developing and are freely sharing their learnings with them. This is a huge engagement factor for middle school students
Toms River, NJ (PRWEB) June 13, 2013
At Preston Middle School, located in Ft. Collins, Colorado, they challenge their students to participate in something called the Grand Challenge. The Grand Challenge asks every kid to propose a solution to a global problem. A special class was formed around three main topics: student led professional development, the Grand Challenge, and utilizing 3D technology.
Presente3D was chosen as the software of choice for creating 3D content because of its ease of use and it's integration directly into Microsoft PowerPoint. The students who were a mix of 6th, 7th and 8th graders were very familiar with Microsoft PowerPoint but, lacked the knowledge on how to create 3D stereoscopic content. Presente3D's easy to use interface allowed the students to quickly start creating eye popping 3D presentations. They could quickly and easily adjust pop-out/pop-in effects for any object on a slide and adjust its thickness.
No special hardware was required for the classroom since the 3D presentations could be viewed on their own classroom PC's using anaglyph 3D glasses. The final 3D presentations were delivered to the schools faculty and parents on a 3D-enabled projector.
"Feedback from our student's parents are that their kids are truly excited about what they are developing and are freely sharing their learnings with them. This is a huge engagement factor for middle school students" Amy Schmer, Dean of Students
Many students gave up lunch and PE periods to have extended learning time with Presente3D and the 3D classroom. These same students are requesting to have another in-depth class on 3D while other kids in the school are wondering when they can take the class.
"It's amazing to see what these students have produced in one semester. By showing their willingness to give up their lunch, gym and even stay after school just to work on their 3D presentations shows the impact 3D and Presente3D can make on learning. " Dennis Cafiero, Founder of Presente3D
Educators who are interested in learning more about Presente3D and how it can be used in your classroom can visit their education website at http://www.presente3d.com/3d-in-education.html.
About Presente3D
Presente3D, is an affordable and easy to use 3D add-on for Microsoft PowerPoint that allows users with no or little knowledge of 3D to create 3D presentations from their existing 2D presentations. Presente3D provides support for 3D display technology ranging from 3DTV's, 3D-enabled projectors, auto-stereo displays and new 3D tablet devices. The technology foundation for developing 3D presentations was to give users the ability to use their existing PowerPoint presentations and transform them into 3D in minutes. The resulting presentation can then be easily viewed on any 3D display available on the market. Integration directly into Microsoft PowerPoint allows organizations large and small the ability to more effectively visually communicate, collaborate and accelerate knowledge transfer with a software package that they are already familiar with.