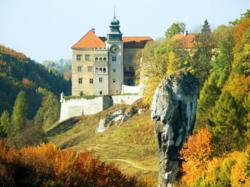 "Social media marketing is an essential pillar of the business, not an accessory, use it more often and use it well." - Ciaran Connolly, Co-Founder of ProfileTree
London, UK (PRWEB) June 16, 2013
Maja started the business of DelightPol Tours & Travel to promote the rich culture and heritage of Poland. She talks to ProfileTree today about creating Poland holidays tailored to perfection.
Maja's inspiration for starting her own business is spreading the word about the rich heritage of her homeland, Poland. She says, "I am doing something I love and I can bring all my ideas to life. I enjoy being my own boss, having control over the timing, scheduling and overall organization. It is also great that I can squeeze in time to be present for my little children."
She gives one advice to anyone looking to start a business: "Beginnings are always hard and scary but you must remember that you cannot have a successful business with a negative mind. Don't give up; take one step at a time. Be realistic, have a plan and stick to it."
She says the Internet and social media are important to her business. "Nowadays many people are online and reach out to use the internet first when they need to find a service. The internet is a powerful tool which helps in spreading the word about my business."
Ciaran Connolly, Co-Founder of ProfileTree said, "Social media marketing is an essential pillar of the business, not an accessory, use it more often and use it well."
Profile Tree's main goal is to help small business owners reach new customers every day with the most innovative online marketing tips and techniques.
About ProfileTree: ProfileTree is a free listing service where self employed and small business owner can create an online marketing profile. From pencil or portrait artists to self-employed service providers, anyone can create a skills profile on ProfileTree for free.
The website also enjoys sharing motivation photos for the self employed, helping with focus and drive. From professional wedding photographers to anyone offering a service, they can be listed online today.