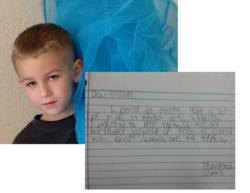 "Could my friends bring cans of bug spray instead of presents to my party?"
Towson, MD (PRWEB) June 13, 2013
7 year old Owen Levine, anticipating his upcoming 8th Birthday, asked his family to help him organize a party that would help the children in Africa who were dying from malaria. "Could my friends bring cans of bug spray instead of presents to my party?", Owen thought he could then send the bug spray to the children in Africa.
Owen had learned that 650,000 people die from malaria each year. 90% of all malaria deaths occur in Sub-Saharan Africa. Less than 5% of children in Sub-Saharan Africa sleep under an insecticide treated malaria net. Owen was uncomfortable knowing that this preventable disease is claiming so many lives.
By partnering with Ghanaian Mothers' Hope Owen has asked his friends, family and literally anyone in the world who shares his compassion for those unprotected children to donate money for proper nets instead of buy him presents for his birthday on June 15. When the teams from Ghanaian Mothers's Hope go to Ghana in July for their other projects (more info at http://www.GMHope.org) they will use the money Owen has raised to purchase and deliver nets to needy children. With photos, video and skye connections the plan is to introduce Lake Worth, FL residents, Owen and his friends, to some children in rural villages in Ghana.
Blog: When do you Know You've Been a Good Dad? Full story here.