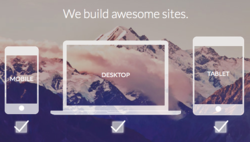 The days of standardized brochure websites are coming to an end.
Columbia, MD (PRWEB) June 17, 2013
The web is not changing, it has already changed. The way people interact with online content has become incredibly streamlined thanks to the evolution of social channels and mobile devices. This change has lead many industry insiders to speculate that the days of standardized brochure websites are coming to an end. One digital creative agency is putting that theory to the test.
The FiddleFly team has dedicated itself to taking an outcome-driven approach to its creative endeavors for clients. They have preached for a long time that the platform or channel for which they build is not as important as the goal (i.e. increased revenue, lead generation, brand engagement, etc.) they are trying to achieve with that particular digital asset. With its new desktop website, FiddleFly is practicing what they preach, by turning the notion of a desktop website on its ear.
Rather than having potential clients land on the FiddleFly homepage only to find a brochure-style layout, the new FiddleFly landing page is a cleverly disguised form allowing clients to select the type of project they are looking for. FiddleFly has moved distractions to the side (i.e. complicated navigation options, long explanatory copy blocks, distracting animations, etc.) and made a direct linear path to action .
Users can select the device(s) for which they need content built, and what their target goals are for the site. As soon as they have selected their platform and desired outcome, they submit their contact information and the FiddleFly team contacts the client with crucial information already in hand. This process allows FiddleFly to begin strategizing potential ways to help clients before introducing themselves, and creates a much more rich and effective initial communication.
While making themselves a case study for their linear philosophy may be a risky proposition, the FiddleFly team believes this linear path to outcome will pave the way for how digital content is built in the future. See the FiddleFly site for yourself at fiddlefly.com.