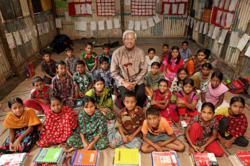 When you create the right conditions, poor people will do the hard work of defeating poverty themselves. - Sir Fazle Hasan Abed
Budapest, Hungary (PRWEB) June 13, 2013
Today, Central European University awarded its 18th Open Society Prize to Sir Fazle Hasan Abed, founder and chairperson of BRAC and the affiliated BRAC University, at a commencement ceremony that included more than 600 masters and doctoral students from nearly 80 countries.
Sir Fazle founded BRAC, formerly the Bangladesh Rural Advancement Committee, in rural Bangladesh in 1972. The anti-poverty organization now works in 11 countries, reaching an estimated 126 million people.
In his commencement speech, he told students, "After my country's independence, I began working to try to help the poor of Bangladesh. My early colleagues and I initially thought that BRAC would be a short-term relief effort. But the realities of entrenched poverty soon changed our minds."
"I have learned much along the way," Sir Abed continued in his speech. "Perhaps the most important thing I learned was that when you create the right conditions, poor people will do the hard work of defeating poverty themselves." In addition to BRAC, Sir Abed is also founder and chairperson of BRAC University, a Dhaka-based institution of higher learning launched in 2001 to train future leaders, especially those from developing nations.
Previous recipients of the Open Society Prize include Sir Karl Popper, author of The Open Society and its Enemies, after which the prize is named; Vaclav Havel, writer and first president of the Czech Republic; Richard Holbrooke, U.S. diplomat; and Kofi Annan, former secretary-general of the United Nations. The prize is given "to an outstanding individual whose achievements have contributed substantially to the creation of an open society."
Both the Open Society Prize and Central European University have close ties to visionary philanthropist and investor George Soros, who founded the university and currently serves as its honorary chairperson.
About Central European University
Central European University is a "crossroads" university that is home to students and faculty members from more than 100 countries. Located in Budapest and accredited in both Hungary and the United States, CEU draws on the research tradition of great American universities and the most valuable intellectual traditions of Central Europe. The University offers English-language graduate programs in the social sciences and humanities, business and economics, environmental sciences and policy, law, and mathematics. CEU was founded in 1991 by George Soros, the American-Hungarian financier and philanthropist, in response to revolutionary changes that were transforming Central and Eastern Europe and the former Soviet Union. His goal was to create an institution that would be a source of intellectual support for building open and democratic societies that respect human rights. In the two decades since, CEU has developed a distinct academic approach: combining regional studies with an international perspective, emphasizing comparative and interdisciplinary research to generate scholarship and policy initiatives, and promoting good governance and the rule of law. CEU is known for excellence in teaching and research – with purpose. At the core of its mission lies a set of principles: the pursuit of truth wherever it may lead, respect for the diversity of cultures and peoples, and commitment to resolve differences through debate not denial.
BRAC is a development success story, spreading solutions born in Bangladesh to 10 other countries around the world. Originally Bangladesh Rehabilitation Assistance Committee (later Bangladesh Rural Advancement Committee, now simply BRAC), it started out as a limited relief operation in 1972 in a remote village of Bangladesh. It is the world's largest development organization in terms of the scale and breadth of its operations. Organizing the poor using communities' own human and material resources, it catalyzes lasting change, creating an ecosystem in which the poor have the chance to seize control of their own lives. It does this with a holistic development approach geared toward inclusion, using tools like microfinance, education, healthcare, legal services, community empowerment and more. Its work now touches the lives of an estimated 126 million people, with staff and BRAC-trained entrepreneurs numbering in the hundreds of thousands, a global movement bringing change to 11 countries in Asia and Africa and the Caribbean. For more information, go to http://www.brac.net.
BRAC University's fundamental belief is that quality higher education must be accessible to individuals from the global south to cultivate ethical, innovative and knowledgeable world leaders. Since tomorrow's leaders will have a tremendous impact on the future of our world, investing in their education is vital if we are to achieve a more peaceful and prosperous planet. BRAC University's Bangladesh location allows students to gain an excellent education in a dynamic and challenging developing environment. Today, BRAC University provides cutting edge education to nearly 6,000 students from more than 21 countries. A beacon of progress in the heart of Bangladesh, BRAC University is developing transformational leaders to tackle the world's most pressing problems.
BRAC USA is an independent affiliate launched in 2007 to advance and support BRAC's global mission.