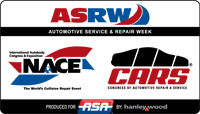 Dallas, TX (PRWEB) June 13, 2013
Automotive Service and Repair Week (ASRW) is excited to announce Ford Motor Co. will be exhibiting at the 2013 event. ASRW will take place Thursday and Friday, Oct. 17-18, with education beginning Wednesday, Oct. 16, at the Mandalay Bay Convention Center in Las Vegas.
"Every year, ASRW attendees express a great desire to interact and engage with the OEMs to discuss access to repair information, parts information and new vehicle technologies," said Dan Risley, ASA interim executive director. "As the first of the OEMs we're in discussion with to formally commit to ASRW, we are appreciative of Ford's participation in this year's event."
Ford will be exhibiting on the ASRW show floor in an all-new area. Additional details and participants will be announced in the near future.
"Ford has had a long standing, positive business relationship with ASA and its members, and we are pleased to continue our support of ASA at one of the industry's most important trade shows," said George Gilbert, crash parts merchandising manager, Ford Customer Service Division.
About the Events
ASRW includes the International Autobody Congress & Exposition (NACE) and the Congress of Automotive Repair & Service (CARS), making it the industry's leading event for dedicated professionals to conduct business, network and engage in industry issues. The Tradeshow News Network (TSNN) has recognized ASRW 2011 and 2012 as a Top 250 U.S. trade show.
NACE – the world's collision repair event – represents the only B2B event of its kind specifically designed for collision repair industry professionals from around the globe. NACE features a comprehensive educational Conference and Exposition with hundreds of diverse exhibiting companies displaying the latest equipment, products, services and technology available to today's collision repair industry.
CARS – the premier event for automotive service professionals – features a high-quality education lineup led by industry leaders, along with an exhibitor showcase of automotive service and repair related equipment, products and services.
ASRW is produced for the Automotive Service Association (ASA) by Hanley Wood Exhibitions, a division of Hanley Wood, LLC – a premier media and information company. For additional information, contact ASRW at P.O. Box 612128, Dallas, Texas 75261-2128; call (888) 529-1641 or (972) 536-6444; or visit http://www.ASRWevents.com.
About the Sponsor
The Automotive Service Association (ASA) is the sponsor of ASRW and two of its shows, NACE and CARS. ASA is the largest international not-for-profit trade association of its kind dedicated to and governed by independent automotive service and repair professionals. ASA advances professionalism and excellence in the automotive industry through education, legislative representation and member services. For additional information about ASA or to join, go to http://www.ASAshop.org.
-30-
ASRW-13-11