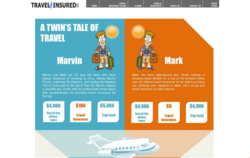 East Hartford, CT (PRWEB) June 13, 2013
Travel Insured International, a leading travel insurance company, has released a new infographic highlighting the benefits and pitfalls of two different approaches to traveling with and without a travel insurance policy. Travel Insured wanted to introduce a new way to portray the importance of travel coverage to individuals in an exiting, visual form that could be easily related to and shared.
The infographic explores a hypothetical vacation that has been planned by Mark and Marvin, two 32 year old fictional twins who have booked a dream trip to Peru to hike Machu Picchu, explore the Amazon, and visit the City of Cusco. Marvin, the more responsible twin books his trip with a travel agent and purchase travel insurance, while Mark, the more adventurous twin book his trip online and opts out of travel insurance coverage for their vacation.
The infographic takes you along Mark and Marvin's adventure and the travel disruptions and accidents that they experience. With flight delays, lost luggage, and medical emergencies, the difference between being protected by travel coverage and not are demonstrated. In the end, Mark only pays an additional $234 with a travel insurance policy, while Marvin is forced to pay $12,350 without travel protection.
Click the following link to view A Twin's Tale of Travel – Travel Insurance Infographic.
http://www.travelinsured.com/about-us/infographic-a-twin's-tale-of-travel
About Travel Insured:
Travel Insured International is the largest privately held travel protection companies in the US, and preferred supplier to over 5,000 travel agents, travel consortiums and wholesalers in the US and abroad. As a former division of the Travelers up until 1994, and originator of travel insurance in the US, you can say that the "travel protection" blood lines run deep. Travel Insured International's customer centric claims operation has significant expertise in both domestic and international claims administration.
Travel Insured International
52-S Oakland Ave.
E. Hartford, CT 06128-056