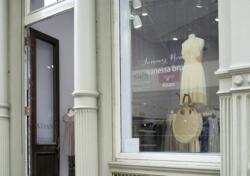 We've selected dresses with stripes, sweet floral prints and embroidery. Vanessa Bruno lovers will also appreciate the cut of the summertime pants and jackets.
New York, NY (PRWEB) June 13, 2013
Kisan teases Soho shoppers to beat the heat this summer by looking romantically cool in Vanessa Bruno. The designer retailer, which features a unique combination of designer clothing for women and children, launched its early June window display with Bruno's light and wearable Summer 2013 collection.
"Vanessa Bruno's fashions are perfect for the woman who likes to look feminine but with an edge," said Kisan co-owner Thorunn Anspach. "Her neutral palette is perfect to accessorize with bright colors that are essential to a classic summertime look."
Bruno's newest collection features soft, flowing dresses in soft colors and prints as well as lightly tailored jackets, which are all great choices to stay cool on hot days. She sticks to her signature soft colors and prints, loved by her followers in Paris as well as Hollywood's most fashionable elite.
"This collection is so charming and feminine," said Kisan co-owner Olivier Bremond. "We've selected dresses with stripes, sweet floral prints and embroidery. Vanessa Bruno lovers will also appreciate the cut of the summertime pants and jackets."
In the accessories department, Kisan brings beach style to Soho with the latest handbag styles from Sans Arcidet. The raffia designs are completely handmade by the finest artisans in Madagascar. These fun-loving bags combine Parisian chic with beachwear style. Summer 2013 styles at Kisan feature colorful straps and other details. The popular neutral raffia styles appear in a number of silhouettes.
The store's highly curated styles this summer also include Giada Forte's women's wear, handcrafted in Italy from some of the world's most beautiful and wearable cottons and silks. Forte's spaghetti-strap dresses and eyelet mini may look delicate, but the designs have just enough city style to make them staples of any New York woman. For those who want even more of an edge, Kisan also has new pieces from Antipast, the Japanese street wear designer. The collection features cool wrap or eyelet dresses, cardigans and more.
Megan Park clothing and accessories are must-haves this summer, featuring ultra-comfortable styles hand dyed to match the season's palette. The look is modern classic, with quality craftsmanship. Her jewelry features wood, brass and other easy-to-wear materials.
Kisan is also the place to see the latest women's designs from Bellerose. The summer collection offers the chic street look Bellerose is known for, but with light, airy designs to help women look cool even on the hottest days. Anspach and Bremond selected breezy tank and shift dress styles as well as gathered short skirts and shorts. Their classic short sleeve and sleeveless tops feature Bellerose's signature embellishments.
Many of Kisan's designer fashions are on sale in June. The retailer continues to showcase chic styles with an urban twist that Anspach and Bremond have discovered in their world travels. The highly curated collection features a blend of designers unique to any other boutique. Some of them are hard to find anywhere else in New York.
Anspach and Bremond opened Kisan in 2008 in Soho, bringing the very best of their favorite fashions and designers they discovered while traveling the world extensively for 20 years. Their retail philosophy is to marry Parisian fashion sensibilities with New York style with clothing that doesn't sacrifice fine quality and wearability. The owners pride themselves on selecting current and upcoming designers with a unique dedication to both craft and style.
Kisan is located at 125 Greene Street, between Prince Street and W, Houston Street in New York. Or shop online at http://www.kisanstore.com.