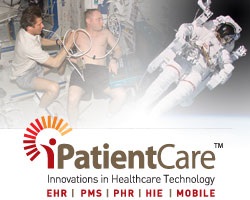 Wyle works with NASA HRP for evolving new and innovative medical capabilitites, through the Bioastronautics Contract to perform an Exploration Medical System Demonstration" informed Kedar Mehta, CTO, iPatientCare, Inc. during a Corporation wide Event.
Woodbridge, NJ (PRWEB) June 13, 2013
iPatientCare, Inc., a pioneer in mHealth and cloud-based ambulatory EHR and integrated Practice Management solutions announced the selection of iPatientCare by Wyle as the EHR vendor to supply an Ambulatory EHR to the Exploration Medical System Demonstration (EMSD) Project for the NASA Human Research Program (HRP).
"NASA's future exploration missions will present significant new challenges to crew health, including hazards created by traversing the terrain of planetary surfaces during exploration and the effects of variable gravity environments. Because of the limited communications with ground-based personnel for the diagnosis and consultation of medical events, exploration class missions will require increased crew autonomy in the diagnosis of conditions, creation of treatment plans, and execution of procedures, in addition to the extended support provided by ground-based medical teams acting as remote consultants to ensure the safety and success of the mission. For evolving such new and innovative medical requirements and capabilities, Wyle has been working with NASA HRP through the Bioastronautics Contract to perform an Exploration Medical System Demonstration (EMSD)" informed Kedar Mehta, CTO, iPatientCare, Inc. during a Corporation wide Event on "Towards Meaningful Use 2014".
Shripal Shah, iPatientCare's Sr. Technology Officer and the Project Manager on this prestigious project explained further, "the EMSD will consist of an integrated suite of medical device hardware and health informatics software technologies that capture, store, retrieve, manage, and communicate astronaut health information to support the care of astronauts during long duration, exploration class missions. This demonstration will utilize the International Space Station (ISS) as a test bed to show that several medical informatics tools and technologies needed for an exploration mission, including inventory and usage tracking, guided medical procedures, a medical decision support tool, an electronic health record, a dry electrode physiologic monitor, a flexible ultrasound, and a video capture system can be integrated into a single intelligent system."
Explaining further, Shahab Shaikh, iPatientCare's Sr. Integration Specialist said, "iPatientCare's EHR is a part of this EMSD project and plays a key role as an Electronic Health Record Data Archival System, providing storage and review of crew members' health data that get transferred to iPatientCare via Data Distribution System (DDS) Service Bus."
"Our Exploration Medical System Demonstration project is being designed for the specific needs of a spaceflight environment. We require a technically robust EHR system that can be customized to meet our interoperability requirements. We chose iPatientCare's EHR because of its compliant software architecture and highly functional integration brokering architecture that makes this customization possible. Through proper development of the software we can integrate the EHR with the other EMSD components, such as the ECG, ultrasound, and Assisted Medical Procedure module", said David Rubin, Wyle EMSD Project Manager. "iPatientCare has been very responsive to our needs and we enjoy working with them", David Rubin added.
"I am very proud of iPatientCare's software engineering excellence that has given us true professional recognitions, such as, being part of the Wyle-NASA EMSD Project, First Responder for the US Army, and prestigious hospitals/health systems, Regional Extension Centers, and thousands of physicians and their office colleagues using iPatientCare's Cloud-based Meaningful Use Certified EHR and integrated Practice Management, Patient Portal, Health Information Exchange, and mHealth solutions for more than a decade.", said Udayan Mandavia, CEO/President, iPatientCare, Inc.
About Wyle
Wyle is a leading provider of high tech aerospace engineering and information technology services to the federal government under long term outsourcing contracts. The company also provides test and evaluation of aircraft, weapon systems, networks, and other government assets; and other engineering services to the aerospace, defense, and nuclear power industries.
For more information on Wyle, go to http://www.wyle.com
About iPatientCare
iPatientCare, Inc. is a privately held medical informatics company based at Woodbridge, New Jersey. The company is known for its pioneering contribution to mHealth and Cloud based unified product suite that include Electronic Health/Medical Record and integrated Practice Management/Billing System, Patient Portal/PHR, Health Information Exchange (HIE), and mobile point-of-care solutions that serve the ambulatory, acute/sub acute, emergency and home health market segments. iPatientCare EHR was among the first to be certified by CCHIT in July 2006 and is currently CCHIT 2011 fully certified and ONC-ATCB 2011/2012 Certified Complete EHR for Meaningful Use. The company has won numerous awards for its EHR technology and is recognized as an innovator in the field, being a pioneer to offer an EHR technology on a handheld device, an innovative First Responder technology to the US Army for its Theatre Medical Information System, the first to offer a Cloud based EHR product. iPatientCare is recognized as one of the best EHR and Integrated PM System for small and medium sized physicians' offices; has been awarded most number of industry Awards; and has been recognized as a preferred/MU partner by numerous Regional Extension Centers (REC), hospitals/health systems, and academies. Visit http://www.iPatientCare.com for more information.
-- END --
Contacts:
Wyle
Dan Reeder
Phone : (310) 563-6834
iPatientCare, Inc.
One Woodbridge Center, Suite 812, Woodbridge, New Jersey 07095
Phone: 800-741-0981 | Fax: 732.676.7667 | Email: info(at)ipatientcare(dot)com