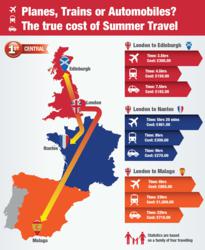 A motoring holiday can be a great economical alternative, especially for larger families.
(PRWEB UK) 13 June 2013
As the great holiday getaway approaches, more than half a million Britons are sacrificing foreign holidays in an effort to conserve money, according to the Office of National Statistics. 1st Central Insurance Management Limited (1st Central), has reviewed the true cost and time implications of summer holiday travel to popular holiday destinations, to establish whether motoring abroad remains a viable and cost effective option.
The Vendée region in France is a popular destination for British families in the school holidays. Taking the car on a ferry from Dover to Calais and driving on toll free roads, you can be there in circa 9 hours for as little as £270.00, including petrol and ferry ticket. By comparison, budget airlines offer flights to 'Nantes' for £461.00 for a family of four, with an estimated travel time of 5 hours 20 minutes, to allow for check in, passport control and baggage collection. Driving also beats the train on cost, with tickets for a family of four at circa £300 and travel time approximately 8 hours.
Heading for Spain sees costs and travel times escalate. Flights for four to Malaga come in over £855.00 and total travel time is estimated at circa 6 hours. Driving remains £100 cheaper, but the journey time is a lengthy 22 hours. If you went by train, costs would exceed £1,000 and you would be travelling for 23 hours.
With two out of three families planning a 'staycation' this year*, costs for travel to UK destinations can also vary significantly. Four flights to Edinburgh cost circa £300 compared to £182 to drive the 400 miles by car from London. Journey times also vary however – it takes a full day to drive to Edinburgh whilst total travel time by plane is approximately 3.5 hours. UK train travel can also be a consideration and this is the most economical means of travel to Edinburgh at just £150 and taking 4.5 hours.
Andy James, CEO of 1st Central Insurance Management, said, "A motoring holiday can be a great economical alternative, especially for larger families. Being in control of your own travel itinerary also means you have the flexibility of stopping off at places of interest along your route – making your journey part of the holiday experience whilst also eliminating additional car hire costs once at your destination. Holiday makers should remember to check any country specific motoring requirements when planning their route including European breakdown cover and the level and duration of overseas motor insurance cover included in their UK policy. 1st Central policyholders benefit from the same level of cover as in the UK for the first seven days when driving in the EU and they have the option to contact us and extend the duration up to 28 days. We advise all UK motorists to notify their insurer when planning a motoring trip abroad, to ensure they have all of the securities in place before setting off."
Editors Notes:
*Survey commissioned by Travelodge.
Prices correct as of 3rd June 2013 for travel on 17th August 2013.
Airline costs calculated via Easy Jet.
Train costs calculated via RailEurope.co.uk and TheTrainline.com.
Driving costs calculated on a basis of 40p per mile and include ferry ticket from Dover to Calais.
About 1st Central:
1st Central is part of the First Central Group (Group), founded by Ken Acott, Pat Tilley, Peter Creed and Mike Leonard as a provider of online motor insurance. 1st Central provides a variety of services to the Group's Gibraltar based intermediary and Insurance companies and the Group has enjoyed exponential growth since its launch in 2008, with around 300,000 customers and one million policies sold since launch.
A period of investment in the business throughout 2011 and 2012 has seen 1st Central reinforce its management team with recognised market experts, embed a scalable policy administration platform which is equipped for further growth, integrate advanced fraud detection technology and implement a sophisticated end-to-end claims management system. The Group is now firmly established as a successful market leader within the motor insurance market and is ready to move into its next phase of sustained growth and expansion.
For further information please contact:
1st Central Press Office
Hayley Tea/Anne Staunton
020 8661 2444
Hayley.tea(at)peak-marketing(dot)co(dot)uk / Anne.staunton(at)peak-marketing(dot)co(dot)uk