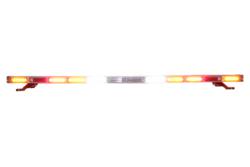 Brooklyn, NY (PRWEB) June 12, 2013
Police Lightz announces the launch of the its first tow truck light bar, the Towman Linear Slim Pro 55".
The Towman series is designed to provide professionals in the towing and recovery industries with an affordable, yet sturdy and dependable warning solution for any tow truck. This new series of light bar is based on popular Linear Slim Pro series but redesigned to provide the functions that any towing company would need to rely on.
"This new tow truck light bar has been a long time in the making. While we provide other amber warning products that can be used in the towing industry, this product is our first that focuses specifically on professionals within the towing market. We hope this will be a first of several products geared specifically for the towing and recovery industry," said Ariel Cohen, director of marketing for Police Lightz.
With a slim, low profile aluminum body, the Towman Linear Slim Pro 55" features include 78 Generation III LEDs with OX designed optics, rear work lights with steady on or flashing modes, fully functioning brake/directional/tail lights, endcaps that can function as flashing warning lights or alley lights, 32 pre-programmed flash patterns including steady on and a 6 switch control panel.
The Towman Linear Slim Pro has 4 warning modules along the front and rear of the bar, 2 rear work lights that come in white but can be changed to amber, and 2 rear modules in red that function as both a brake light and directional signals. All of the modules along the front and rear of the bar have 6 LEDs providing enough warning capability in various conditions.
Pricing & Availability
The Police Lightz Towman Linear Slim Pro 55" LED light bar is now available for purchase directly from Whacker Technologies or online at http://www.emergencycity.com. The Towman Linear Slim Pro full size LED light bar is available for purchase from $949.99.
About Whacker Technologies Inc
Whacker Technologies, Inc., is headquartered in Brooklyn, NY and is the parent company of Whacker Technologies, Police Lightz, and EmergencyCity.com. Whacker Technologies manufactures and sells interior and exterior police lighting, sirens and accessories for vehicles of many industries. For more information please visit http://www.whackerusa.com.