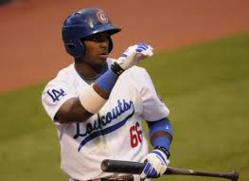 Los Angeles, CA (PRWEB) June 12, 2013
Dodgers' outfielder rookie Yasiel Puig has been off to a fantastic start for the team. He has been hitting on the plate and making throws that are getting everyone's attention. Last night, as the the Los Angeles Dodgers and the Arizona Diamondbacks played in a very heated, eventful game, Puig first took a break in the second inning when he felt a cramp in his leg. He returned to the game in the top of the third. But then in the sixth inning, Diamondbacks starting pitcher Ian Kennedy hit Puig in the face by a 92 MPH fastball. Puig ended up being okay, as he took his base and the game continued. After all of these mishaps, there would be one event that ultimately led to Puig leaving the game. After a series of both pitches hitting players, a brawl broke out. Puig, along with Dodgers hitting coach Mark McGwire, LA reliever Belisario, starting pitcher Kennedy, and more were ejected from the game. The Dodgers ended up winning the game 5-3.
After just five games in the majors with the Dodgers, Puig has a .464 batting average, 4 home runs, and 13 hits in his first 29 at-bats. For the first week of June, the rookie was named National League Player of the Week, but unfortunately his ejection from the game may result in a suspension. To follow up with this rising start Puig and the rest of the Dodgers, visit http://www.Dodgers-Tickets.net. Here you can find Dodgers tickets, an easy read game schedule, and a social media fan hub. Brought to you by Inside Track Tickets, this site has all tickets to any Dodgers game you would like to attend.