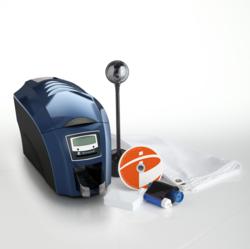 "We're excited to attend SHRM again this year in Chicago," said Piepkow. "We look forward to seeing familiar faces and meeting first time attendees to discuss their identification needs."
Chicago, IL (PRWEB) June 13, 2013
IDville, the leading identification and security expert for business, education, healthcare, and government, will attend the Society for Human Resource Management (SHRM) 2013 Annual Conference & Exposition at the McCormick Place in downtown Chicago, June 16-18, for the third year in a row. In booth #1826, IDville will perform live demos of its ID Maker™ photo identification systems as well as offer free giveaways and raffle opportunities.
"It's more important than ever to ensure that your employees and visitors are easily recognized throughout your organization," commented Kelli Piepkow, IDville's Marketing Manager. "We're anxious to perform demos and share information, tips, and advice regarding ID badges and photo identification systems," said Kelli.
IDville will have its ID Maker all-in-one photo identification system available for demos at booth #1826. The latest version of ID Maker software, ID Maker 3.0, provides an updated user interface and the tools needed to create bold, secure, and professional ID cards. IDville also offers all of the accessories and supplies that are necessary for employee ID cards such as badge holders, badge reels, and lanyards. Attendees will be able to request free systems information packets to learn more.
Those that attend the SHRM 2013 Annual Conference & Exposition and stop by IDville's booth #1826 will receive free ID badge accessories and special offer information regarding your next IDville purchase. There will also be raffle opportunities to win a $200 Visa gift card at the conclusion of the 2013 Annual Conference and Exposition.
IDville has provided photo identification systems and accessories to the HR industry for over 10 years. The company's proprietary ID Maker software simplifies the process of identifying employees and staff and has been a favorite among human resource managers for years.
"We're excited to attend SHRM again this year in Chicago," said Piepkow. "We look forward to seeing familiar faces and meeting first time attendees to discuss their identification needs."
About IDville (http://www.IDville.com)
IDville, the leading identification and security expert for business, education, healthcare and government, focuses on the identification of employees, students, and staff. The brand has become known for its user-friendly ID Maker suite of products, Visitor Express: School Edition visitor management system, superior customer service, and expert knowledge. The brand offers complete identification solutions including software, printer systems, custom lanyards, retractable badge reels, office nameplates, and more, simplifying the buying and identification processes.
About SHRM (http://www.SHRM.org)
The Society for Human Resource Management (SHRM) is the world's largest association devoted to human resource management. Representing more than 250,000 members worldwide, the Society serves the needs of HR professionals and advances the interests of the human resource profession. The annual SHRM conference is the world's largest gathering of human resource professionals drawing participants from more than 140 countries, including prominent business, policy and HR thought leaders.