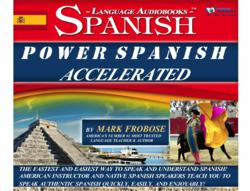 Power Spanish I Accelerated will quickly teach anyone how to create and speak their own original sentences in Spanish within minutes of using the program!
Mark Frobose/Founder
LanguageAudiobooks.com
Champaign, IL (PRWEB) June 12, 2013
Language Audiobooks President Mark Frobose announced today the release of his company's bestselling "Power Spanish I Accelerated" on Amazon.com.
"We thought our customers would enjoy the convenience of being able to access our most popular and amazing Spanish language program "Power Spanish I Accelerated" on Amazon.com," said Frobose, who is the nation's most prolific language program creator.
According to Frobose, the all audio "Power Spanish I Accelerated" is the fastest and easiest way to speak Spanish for several reasons.
"The challenging pace and friendly tone of the program are designed to keep the learner constantly motivated and learning Spanish at optimal speed," he explained.
And what about the method used in "Power Spanish Accelerated"?
"The Language Audiobooks method as it is used in Power Spanish will quickly teach anyone how to create and speak their own original sentences in Spanish within minutes of using the program," he said.
When asked why he named the new program "Power Spanish I Accelerated, Mark responded with a smile by saying, "Power is the ability to act and get a result and that's exactly what Power Spanish does as the listener quickly learns to speak Spanish."
Power Spanish I Accelerated is available now at Amazon.com and at http://www.languageaudiobooks.com.