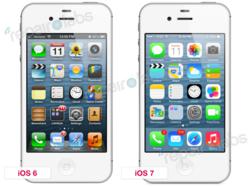 The vector design is really eye-catching, and I like it. It definitely has a hipster feel to it, but I still like iOS 7
Wichita, KS (PRWEB) June 12, 2013
June 12, 2013/ RepairLabs, an online express-ship electronics device center has got hands-on with the new Apple iOS 7 operating system for the iPhone and iPads. They took the time to individually highlight each new feature and change and compare it to its predecessor, iOS 6.
"It's ugly... The flat bright colors for the icons just looks flat out stupid. I'm definitely going to Android," is what RepairLabs own Lead Repair Technician, Taylor Huddleston had to say.
Included are over a dozen images showcasing all of the changes. Though the opinions are varying on the new design of iOS 7, nobody disagreed with the fact that it is much snappier and quicker than its predecessor in every way possible.
"The vector design is really eye-catching, and I like it. It definitely has a hipster feel to it, but I still like iOS 7," were Graphic Designer Michelle Abril's thoughts on the new iOS 7.
About RepairLabs.com: RepairLabs was founded in 2009 to provide consumers with an excellent and affordable repair shop for Apple devices, and has continually expanded until now, where they cover almost all major mobile electronic devices. Nationally recognized as a leading source in repair knowledge, the RepairLabs blog has consistently delivered cutting-edge analysis and reports and has been sited on countless authority news hubs, such as; TechMeme.com, Forbes.com, and theVerge.com . Learn more at http://www.fix-iphones.com/ipad-repair.html or call 1-888-755-1115.
DJ Dixon
(316) 869-2865
http://www.repairlabs.com