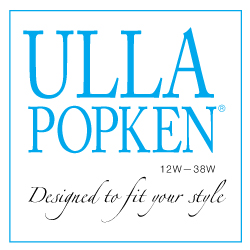 "We believe Feeling Beautiful Is Empowering™, but making beautiful clothing is only part of our mission." - Phyliss Mosca, Ulla Popken President
Glen Arm, Maryland (PRWEB) June 13, 2013
As part of its core philosophy to celebrate women who are living life to the fullest, plus-size fashion leader Ulla Popken has chosen six inspiring women from hundreds of entrants nominated by friends, family, and coworkers. From those six, consumers are asked to choose one winner, who will be named Ulla Popken's next Phenomenal Woman, and who will receive a $500 gift certificate toward a new wardrobe from the clothing retailer. The phenomenal woman will have her story featured via video on http://www.ullapopken.com. Ulla Popken encourages all women to be their personal best every day, regardless of obstacles, and hopes that recognizing "phenomenal women" will provide inspiration to others.
"Our goal is to make a positive difference in our customers' lives," said Ulla Popken President Phyliss Mosca. "We believe Feeling Beautiful Is Empowering™, but making beautiful clothing is only part of our mission. We encourage and celebrate women who strive to make a positive impact in their communities. We are honored to be able to celebrate these women's lives."
Information about all six finalists is posted on the Ulla Popken Phenomenal Women Contest website, where voters can read the women's inspiring stories, then cast their ballots by 5:00 P.M. ET on Friday, June 21st. The winner will be announced on June 30th.
In addition to receiving a $500 wardrobe from Ulla Popken, the Phenomenal Woman will be featured in a video telling her story on U.P. Life, the company's community website uplife.ullapopken.com. Due to the difficulty in choosing only one Phenomenal Woman, two runners-up will receive $100 wardrobe vouchers as well.
"I am honored to be considered for such a lofty designation, and would be even more honored to have the opportunity to wear some of your amazing clothing!" said Mary Martha Arana, a nominee from Texas, who is proud to be a plus-size woman making a difference. "We live in a society where obese and overweight adults and children are looked upon with derision, and it breaks my heart. I used to work in television as a reporter/anchor, and have been in the public eye, but there is an unfortunate element of discrimination."
Other nominees include: Kathleen Romanovich, whose husband Jan nominated her for the undercover philanthropic work she does in North Carolina, such as paying a medical or mortgage bill as an anonymous donor; Lisa Spencer, a cancer survivor, who was nominated by her daughter for her work as a Breast Cancer Patient Navigator helping both women and men negotiate the rocky financial, medical and emotional waters following diagnosis; and, Ruthe Farmer, whose life approach is described by her nominator Sunana Batra, "She skydives through life, soaring, taking risks, breaking the mold and racking up notches of success for everyone blessed enough to walk with her."
These inspiring stories and those of previous Phenomenal Women are posted on the Ulla Popken Community page.
"Women are typically givers, an army of angels working without recognition to make a difference in people's lives," said Alexandra Boos, Ulla Popken spokesperson. "I am excited to meet and interview the next Phenomenal Woman winner in her hometown, where she is making an impact. And I am honored to be a part of Ulla Popken. I can't think of another company that works harder to encourage women to live their best lives and make a difference."
About Ulla Popken:
Ulla Popken is a plus size women's clothing retailer selling sizes 12W-38W. Initially a German retailer with more than 320 stores in Europe, Ulla Popken founded its US headquarters in Glen Arm, Maryland in 1993 and serves customers through catalog and eCommerce.