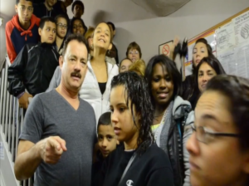 Every success story begins with an epiphany, that moment of inspiration
(PRWEB) June 12, 2013
In an effort to create 100 Moments of Inspiration for a group of inner-city kids, The Epiphany Tour launched out of Springfield, Ma in May, making its first stop in New York City to visit with actors Tom Hanks and Peter Scolari.
Hanks and Scolari, longtime friends who began their careers on the sitcom "Bosom Buddies," have been reunited on Broadway, performing together on Nora Ephron's "Lucky Guy." The pair took time out from their hectic schedule to meet the group backstage at New York's Broadhurst Theater.
The Epiphany Tour is the brainchild of David Horgan, a Massachusetts business consultant who has worked with several non-profits to develop arts and media programs for inner-city kids.
"Every success story begins with an epiphany, that moment of inspiration," said Horgan. "I realized that a lot of the kids we are trying to help don't really have enough opportunities to have their moment of inspiration."
So The Epiphany Tour was born.
"Our goal is to create One Hundred Moments for these kids," Horgan said. "We want to introduce them to inspiring people, maybe light a spark somewhere inside them, and give them an opportunity to have that 'moment' when the light goes on and they figure who or what they want to be."
Horgan, who has had success creating youth programs for Western Mass entities like Commonwealth Academy, Project 13, and Home City, has committed to developing The Epiphany Tour into a national program.
He has set the bar high by launching The Epiphany Tour with a meeting with one of the world's most recognizable film stars, a meeting he was able to organize through his relationship with Peter Scolari.
"Peter is a very good friend of mine," Horgan said. "I called him up, and he said come on down."
Planning is underway for the next stop on The Epiphany Tour and Horgan is working on a funding model through the Starfish Foundation. For more information on The Epiphany Tour, contact David Horgan at info@theEpiphanyTour.com.
For media inquiries, contact Don Moorhouse at dm(at)eleventhavenuepr(dot)com.