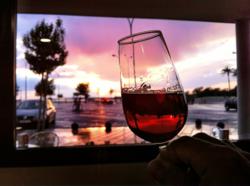 Since Message Marketing is a new, growing industry, it is vital to be up to date
Denver, CO (PRWEB) June 13, 2013
Voice One is launching a new mailer titled "The Glass of Sherry" to be delivered each Friday. The mailer aims to provide information related to the latest and most relevant news in the Message Marketing industry.
"Since Message Marketing is a new, growing industry, it is vital to be up to date," explained Sheri Springer, the voice of "The Glass of Sherry." Springer went on to say, "that is a service I can provide and am happy to offer."
Springer is an experienced professional and has managed Fortune 500 company portfolios of over $3 million during her extensive sales career. Springer was Director of North American Sales for MACH Americas, Senior Account Executive for TouchStar Software and several other software and technology firms, and held positions at Sentinel Development and Vocalcom. Her strong knowledge, experience and academic background, including a BS in Management Information Systems from the University of South Florida and an MBA from the University of Tampa, have given her extensive knowledge in the Message Marketing industry.
In the end, Springer envisions "readers pouring a glass, kicking up their feet, unwinding and enjoying an informative, interesting article at the end of each week."
Springer and the Voice One team are also excited that the articles will be interactive and viewed through a variety of mediums. Therefore, readers can and are encouraged to like "The Glass of Sherry" on Facebook and to follow on Twitter and Linkedin. "We did this because various media outlets provide flexibility, not pressure to learning about new messaging innovations. We encourage special interest articles written by guest writers," expounded Jennifer Pontarelli, Director of Social Media at Voice One.
If you would like to be a guest writer and join Voice One in a special interest article, please contact Voice One at 1-877-499-7012.
And be sure to be on the lookout for the uncorking of "The Glass of Sherry" next week.
###
About Voice One
Voice One is a full-service provider that offers a multichannel communication platform featuring voice and text solutions designed to deliver targeted and personalized messages, such as appointment and payment reminders. Our hosted system has the ability to handle virtually any interactive messaging campaign that can be imagined providing reliability, innovation and scalability that will inevitably relieve pressure on your business.
About thē Call Center Corporation
thē Call Center Corporation, a Bederman company, offers call center technology solutions. One of a group of subsidiaries owned by the Corporation, and created to fill the gap between call center software providers and customer needs in the call center market, thē Call Center Corporation is a new kind of call center solutions provider. thē Call Center Corporation recognizes customer requirements, suggests solutions from a portfolio of only highly rated products, and helps customers implement technology to improve efficiency, effectiveness and return on investment.