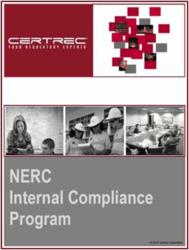 Certrec's Internal Compliance Program is a systematic policy, procedure, training and compliance management solution for meeting NERC Internal Compliance expectations. Bob Biggs, ONC Manager
Fort Worth, TX (PRWEB) June 12, 2013
Certrec, a leading licensing and regulatory compliance provider for NRC, FERC, and NERC compliance, announced today the launch of their Internal Compliance Program (ICP) for NERC Entities.
The Office of NERC Compliance is comprised of ICP Assessment, Internal Compliance Program, "Living" ICP, and "Living" RSAW (Reliability Standard Audit Worksheet), Certrec's Internal Compliance Program solution is a proven, end-to-end system for NERC and Regional Entity compliance.
"As regulatory compliance experts, we are often asked, "Where is the NERC regulatory process going?" says Ted Enos, CEO of Certrec. "In our 30 years of experience with regulatory agencies, we feel that the NERC oversight and regulation process is very similar to the evolution of the Nuclear Regulatory Commission's (NRC) process," Enos continued.
"FERC, NERC, and other regulatory agencies may have a different path than the NRC, but in our experience, they seem headed toward the same goal," says Enos. "Understanding the elements of an Internal Compliance Program (ICP) is the key to anticipating this regulatory evolution. Proper implementation and maintenance of an Internal Compliance Program can allow managers to get ahead of the "Power Curve" of the NERC regulatory process."
Certrec's Internal Compliance Program's four components allow compliance managers the flexibility to deploy one or all parts, depending on their needs and maturity of compliance. Each component is easy to implement, cuts resource time and costs, and helps to ensure compliance.
"Maintaining Internal Compliance programs can be challenging for NERC compliance managers who may lack the expertise, time, or resources necessary to create or maintain such an in-depth program," says Bob Biggs, Certrec's Office of NERC Compliance Manager. "Our Internal Compliance Program is a systematic policy, procedure, training, and compliance management solution for meeting NERC Internal Compliance expectations – from independent assessment of the health of an Internal Compliance Program to maintaining a "living" real time ICP anywhere, anytime."
"Certrec is seeing strong interest in our new Internal Compliance Program solution," notes Ted Enos. An ICP is often a prerequisite to exercise the Find It, Fix It, Track It Program which can help Registered Entities mitigate the risk of findings and violation fines."
Founded in 1988, Certrec is a regulatory compliance process expert that helps utilities manage the regulatory process to their advantage. With more than 300 cumulative years of regulatory and industry experience with the Nuclear Regulatory Commission, the Federal Energy Regulatory Commission, the North American Electric Reliability Corporation (NERC), and other Regional Entities, Certrec's Office of Licensing and Compliance, Office of NERC Compliance, Office of Assessment and Recovery and New Plant services are used by utilities across North America.