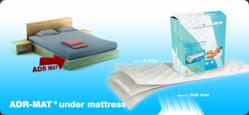 EMF radiation protection for Father's Day!
Baltimore, MD (PRWEB) June 13, 2013
With the Father's day just around the corner, this Father's Day is the perfect time to show appreciation for all good fathers by protecting them from EMF radiation and by shining light on EMFs as a health hazard that is not visible to the naked eye but exists around the house and office.
EMF radiation is one of those hazards. EMF radiation roots from residential and commercial electrical sources, such as: cell phones, television, cables and computer among many other things that are pretty much all over the house and office. These items are constant companions around the house. In fact, they are sources of leisure on a regular basis. Unfortunately, they often bring negative health effects in a form of harmful electromagnetic radiation.
But fortunately, EMF protection, which reduces or prevents emission of EMF radiation, is available to fight the harmful effects of radiation that constantly surrounds us. AdrProVita has a season's special on ADR Mats for Bed that protect against harmful electromagnetic radiation emitted from various electrical sources, from getting into human body and damaging DNA. ADR Mats for Bed are a perfect start to protect one's father's health from getting contaminated with EMF radiation originating from electrical sources, wires and electronic items creeping under beds and floors.
Another important protection product from EMF radiation that fathers must have is the ADR-Blue. It shields and cleans the water supply from radiation contamination. ADR Blue can be placed in water containers for healthier water consumption, tubs and bathroom for cleaner hygiene and garden plants or pots where fathers are likely spend some time.
A lot of times, the biggest testimony of love for loved ones is by protecting their health. In this Father's Day, do not simply tell your father how much you love him. Tell him that you want to have him in your life as healthy as he can be for as long as possible by educating him on EMF radiation and radiation protection.
Imagine a world without the harmful influence of EMF radiation. Life without the negative effects of electromagnetic radiation causing headaches, migraines, sleep disorders, chronic fatigue, exhaustion and hormonal disorders. These are just a few symptoms associated with the exposure to artificial (man made) electromagnetic radiation. The necessity for finding integrated solutions that take into account the health aspects has been recognized by the World Health Organization (WHO) and other international institutions. Following this path, AdrProVita.com provides a simple but unique solution, "protective shield" against the electromagnetic radiation. This shield utilizes the same process which the human body uses to absorb radiation in order to weaken its intensity. AdrProVita's EMF protection products provide the uniquely reliable solution that prevents the negative influences of EMF radiation. For more information about EMF protection products, visit http://www.adrprovita.com.