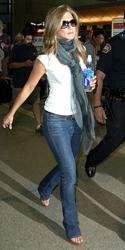 Airport chic is about looking like you've rolled out of bed, thrown the first thing you've come across, popped on a pair of shades and headed to the airport.
(PRWEB UK) 17 June 2013
Martine Alexander has styled celebrities including Coronation Street stunners Michelle Keegan, Samia Ghadie, Michelle Collins and Ali King, plus Helen Flanagan, Natasha Hamilton, Liz McClarnon and Suzanne Shaw.
And she knows just how important it is to ensure whether you're travelling to this summer's long haul hotspots such as Mexico, Jamaica and Cape Verde or to popular favourites such as Tenerife, Turkey and Cyprus, that you step off the plane looking stylish and fresh.
Travel in style
Martine said, "To me, airport chic is all about looking like you've rolled out of bed, thrown on the first thing you've come across on the floor, popped on a pair of shades and headed to the airport - without looking in the mirror!
"Style should look effortless, aka not look like you've tried. How you do this is by avoiding anything that looks too 'matchy-matchy' and colour coordinated.
"So, at the airport, you want to be wearing your skinny blue jeans (if you want to be on trend then make sure yours are frayed or ripped), a floaty longline blouse (make a mental note of this shirt as it will re-appear later on) and your must-have cashmere scarf to keep you warm. Shoes should be comfortable (either a gold flat sandal or a wedge)."
Hot beachwear looks this summer and how to 'style it up' on the beach
So is this summer about a one piece or bright skimpy bikini, the kaftan or sarong, and what footwear is on trend?
Martine advises, "This summer it's all about the tassels and bling on the beach. Tassels can take any form of a guise whether sewn onto a swimsuit or with a simple bikini and accessorised with a fringed cover up.
"If you're thinking of afternoon drinks straight from the beach and don't have time to change, add a statement necklace to your bikini, a sheer maxi dress or that blouse I mentioned before, heels and your oversized sunglasses for that infamous effortless look! Whether you plan to be enjoying a mojito in Egypt, a bottle of Peroni on the Costa Brava or an Ouzo in Greece, make sure your suitcase is packed with the ideal key items."
The only way is capsule
While most women take their entire wardrobe for every eventuality (fat day, stains etc), Maxine is a great believer that less is more and that by taking less, you have more chance of wearing it all and experimenting with different combinations. Here are her top ten ideas for keeping it capsule:
1.Denim shorts - again, frayed for Spring/Summer 2013
2.Nude wedges - they go with everything
3.Flip flops
4.Selection of summer hats
5.Jeans - these can be the same that you flew out in
6.Trainers - for exercise purposes only!
7.Two dresses – mix and match with accessories to create different looks
8.One pair of killer heels - for those ultra special nights
9.Tailored jacket - to complement dresses and jeans
10.Five summer tops and shorts - to be mix and matched
Calum Macdonald from Latedeals.co.uk says: "The cost of a new holiday wardrobe can really add up, with the average cost around £245 - the equivalent of a holiday with Latedeals.co.uk! Maxine's advice on sticking to a capsule wardrobe is a great way to keep those pre-holiday costs down and also help avoid any unexpected costs as a result of exceeding airline baggage allowances!"