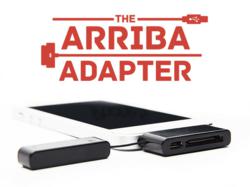 The support has been great so far, especially from frequent travelers. We are really excited to get this thing out there!
Santa Barbara CA (PRWEB) June 13, 2013
After two weeks of office anxiety, The team at Arriba Design finally got word that their project had been given the green light to launch on Kickstarter. Their project is the Arriba Adapter, an iPhone 5 adapter that charges your iPhone with 30 pin connecters, as well as Android chargers. Since the release of the new connecter for the iPhone 5, finding a compatible iPhone charger is harder than ever, so having an adapter for other cell phones can really come in handy, especially one that attaches to your key chain.
Arriba Design, the independent design company behind the adapter, is no stranger to the iPhone accessory market. They made headlines in 2010 when they released the first ever iPhone bottle opener case, the iBottleopener. Last year they released the Juicebuddy, a portable iPhone charger with an integrated USB port. The Arriba Adapter is their third product, but their first introduction to the world of Kickstarter.
"Going on Kickstarter used to be an afterthought to product development, but now it is fully ingrained in the product life cycle," said Zack Cram, the founder of Arriba Design. "From the moment an entrepreneur or inventor has a new concept, they immediately begin to brainstorm about how to present their concept to the Kickstarter community. We couldn't be more excited to share our project, and we are extremely happy to be here. Aside from the funding aspect, its really great exposure for a small business".
The Project has a goal of $8500, and is on pace to exceed its goal, with over three weeks left in their campaign. All backers of the project will receive the Arriba Adapter before the large scale retail launch in the fall. Early bird backers will receive a discounted price, and premium backers will also receive a custom iBottleopener case with their adapter.