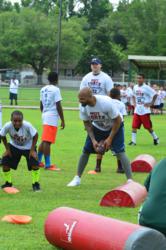 My ultimate goal was to get the kids to come out, stay active, and learn proper football skills.
Atlanta, GA (PRWEB) June 12, 2013
Matt Forte, All Pro running back for the Chicago Bears, successfully hosted his 2nd Annual Youth Football Camp in his hometown of Slidell, LA on Saturday, June 8th for 200 campers, ages 7-13.
Matt's goal for the camp was to enhance the campers' skills and build their knowledge of football fundamentals. On the field, Matt was joined by coaches from Slidell Youth Football Association (SYFA) and local high schools including Northshore, Salmen and his alma mater, Slidell High School. Matt and his team of coaches took campers through agility drills, position specific drills and correct tackling form. Throughout the camp, Matt emphasized the importance of working hard, being disciplined and striving to reach goals, on and off the field.
Aside from the on-field instruction, campers enjoyed the mentoring segment of the camp, known as "Chalk Talks". Matt and Slidell High School's head coach, Larry Favre, stressed the importance of getting an education in order to be successful in life. Matt spoke about honing his skills as a young student athlete at SYFA and why it is necessary to give back to the community.
"My goal was to get the kids to come out, stay active, and learn proper football skills," said Forte. "It feels great to be back home and help instill in the kids the same fundamentals that my coaches taught me when I was coming up in SYFA."
In addition to the the one day camp, Matt donated shoulder pads and helmets to SYFA. He is also assisting the organization with the renovation of their fields and facilities. Matt's community giving extends beyond his hometown as he is very active in the Chicago community where he hosts mentoring dinners for high school student athletes and serves as the spokesperson for Chicago's Mercy Home.
The 2nd Annual Matt Forte Free Football Camp for Kids was sponsored in part by Slidell Youth Football Association, IMS, Tampa Ship, NFLPA, NFL, Popeyes Louisiana Kitchen, Acadian Ambulance Service, Jon Nastasi Photography, Masker Family McDonald's, LR&A Companies, People's Health, Jamba Juice, Slidell Family Dentistry, Chicago Bears, Homewood Suites by Hilton Slidell, PowerAde, Councilwoman Kim Harbison and Bippo's Place for Smiles.
To view camp photos, please visit: http://on.fb.me/13XKjda.