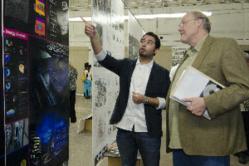 San Diego, CA (PRWEB) June 12, 2013
NewSchool of Architecture and Design(NSAD) invites members of the community to view the graduating students' senior thesis projects during the annual Student Thesis Exposition, held on June 21 at the school campus from 5:30 p.m. to 7:30 p.m. See for yourself the design ideas graduating NSAD students have come up with for San Diego's downtown areas and waterfront, the U.S-Mexico border, and for sustainability efforts in Saudi Arabia – among many other projects that reflect the school's emphasis on community involvement and global education opportunities.
The event is open to the public and free of charge. Graduating students will be on site to discuss their projects.
What: NSAD Student Thesis Exposition. About 100 projects will be on display, featuring large-scale renderings and models. Thesis projects include those that are directly applicable to the San Diego region, as well as international projects that reflect the school's global education opportunities.
When: June 21, from 5:30 p.m. to 7:30 p.m.
Where: NSAD campus. 1249 F Street. San Diego, Calif. 92101.
Additional Information: Contact Anna Cearley, PR/Communications Manager at acearley(at)newschoolarch(dot)edu
Examples of Student Work to be Featured:

San Diego urban design solutions. A team project by four NSAD architecture graduate students to apply "ephermeral urban acupuncture" to urban vacant spaces using removable structures, such as shipping containers - an idea that has received accolades from San Diego's mayor and media coverage in KPBS-San Diego and the San Diego Daily Transcript.
A prefabrication strategy for rural health clinics. Set in a rural community in the Philippines, a design by Liz Marie Oyas for a pediatric and obstetric clinic aims to improve and provide lasting health care.
Sustainable design along the U.S.-Mexico border. In an area known as Smuggler's Gulch, a team of NSAD students proposes a soft-body fabrication system that is able to create specially-designed surfaces via pressurized membranes that are welded together and can be quickly and precisely produced while yielding minimal waste.
About NewSchool of Architecture and Design
NewSchool of Architecture and Design (NSAD), founded in 1980, is located in San Diego, California. For the past two years, DesignIntelligence has ranked NSAD among the top 10 undergraduate architecture schools in the western United States in its publication "America's Best Architecture & Design Schools." NSAD is accredited by the Accrediting Council for Independent Colleges and Schools (ACICS), a national accrediting agency recognized by the U.S. Department of Education and the Council for Higher Education Accreditation. NSAD's Bachelor of Architecture, Master of Architecture and Executive Master of Architecture programs are accredited by the National Architectural Accrediting Board (NAAB). NSAD also offers a pre-professional Bachelor of Arts in Architecture, along with a Bachelor of Science in Digital Media Arts, a Bachelor of Science in Construction Management, a Master of Construction Management and a Master of Science in Architecture. The school's expanding global design education offerings include a new Bachelor of Interior Design program available in 2013–2014. For more information, visit http://www.NewSchoolArch.edu.