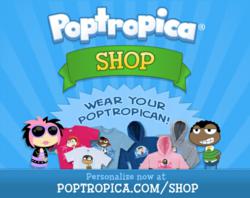 With today's opening of Poptropica's online store, kids can now express themselves with items featuring their unique Poptropica characters.
LAS VEGAS, Nev. (PRWEB) June 17, 2013
Today at Licensing Expo 2013, Poptropica announced the launch of an online shop where fans can customize merchandise with their Poptropica avatars. Developed in collaboration with Custom Personalization Solutions LLC (CPS), the Poptropica Shop will feature items including t-shirts, pullover hoodies and zip-up hoodies.
To date, kids have created more than 500 million individual avatars on Poptropica. These avatars can be printed on an array of t-shirts and sweatshirts to create distinctly unique custom merchandise for the Poptropica fan.
"We collaborated with Custom Personalization Solutions, experts in print-on-demand products, to develop this online store in response to the countless requests from Poptropica fans around the world for a way to easily purchase items to show off their love of the site," said Jess M. Brallier, publisher of Poptropica." With today's opening of Poptropica's online store, kids can now express themselves with items featuring their unique Poptropica characters."
It's easy to get a Poptropican on a t-shirt or sweatshirt. Fans begin at poptropica.com/shop and enter their Poptropica username in the box and click "Ok". They click "Yes" to confirm their avatar and then continue to the custom site on Ty's Toy Box. There they can select from many high quality clothing items starring their very own Poptropica avatar!
Hundreds of millions of kids from countries worldwide have visited Poptropica since its launch five years ago and the number grows every day. Poptropica players come from more than 200 different countries and territories and have their web browsers set to more than 100 different languages. The virtual world offers kids a safe place to play and interact online.
All Poptropica Islands are free to play, and each represents a unique theme and challenge. Kids can stay up to date on news about upcoming new Islands and other exciting developments in the world of Poptropica on the official Poptropica blog.
About Poptropica (http://www.poptropica.com)
Poptropica is a virtual world in which kids explore and play in complete safety. Every month, millions of kids from around the world are entertained and informed by Poptropica's engaging quests, stories and games.
Kids create a "Poptropican" character to travel the many Islands of Poptropica and use gaming literacy to enjoy a narrative that is often rooted in factual history. Problem-solving skills are honed as kids discover and solve mysteries unique to each Island.
There are always new areas to explore in this ever-expanding world where kids can collect objects, read digital books and comics, watch movies and compete in head-to-head competition. Parents can always trust that their children are playing – and learning – in a safe online environment.
Poptropica is published by Family Education Network, a part of Pearson, the education, services and technology company. Pearson's other primary operations include the Financial Times Group and the Penguin Group.
About Custom Personalization Solutions
Custom Personalization Solutions LLC (CPS) is a web-oriented business that utilizes extensive personalization capabilities and strong product development to establish exclusivity and differentiation on a wide variety of products. Custom Personalization Solutions sells its products through wholesale partnerships as well as on its own websites. Custom Personalization Solutions also provides specialized ecommerce strategy, solutions and services primarily for the licensing industry.