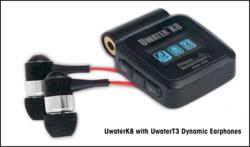 Our customers tell us every day how important waterproof audio is to achieve and maintain their goals. Unfortunately most swimmers are unaware that such technology exists
Hackensack, NJ (PRWEB) June 13, 2013
Fitness Technologies, Inc., http://www.fitnesstechusa.com a leading provider of waterproof audio products introduced today this tiny wearable Action Audio Gear, delivering FM radio, audio books, music, or athletic training audio. Never again will anyone get bored with any water workouts!
At merely one ounce, the micro-sized UwaterK8 (0.4" x 1.25" x 1.75") comes with 8GB of memory, digital tuner, stainless steel back-plate, OLED display and detachable clip. The UwaterK8 is affordably priced at $129.
8GB of Memory Fits up to 2,400 songs (20 Audio Books)
With 8GB of memory, users can easily create personal playlists of 2,400 songs or 20 audio books with up to 99 sub-directories and up to 8 hours of playtime. The patented UwaterK8 100% waterproof MP3/PLL/RADIO easily clips onto armband, goggles, headband, belt, for swim-anywhere/go-anywhere listening pleasure
46 Million Americans Swim
"According to 2011 survey conducted by the National Sporting Goods Association (NSGA), 46 million Americans swim. Our customers tell us every day how important waterproof audio is to achieve and maintain their goals. Unfortunately most swimmers are unaware that such technology exists" said Opher Pail, President, Fitness Technologies, Inc.
UWaterK8 Features :
Memory: 8GB (2000-2400 Songs/20 Audio Books)
Play Time: 7 HRS (MP3), 8 HRS (FM) on a single quick charge!
Built-in high performance Li-Ion Rechargeable Battery
High Resolution OLED Display with adjustable backlight.
MP3/ WMA /FM/Audio Books Formats
Seven (7) PLAY options: Normal/Random/Intro/Repeat/Repeat One/AB Folder/Replay All.
Seven (7) Sound Equalizer Options: Natural, Rock, POP, Classic, Soft, Jazz, DBB
Up to 99 sub-files (sub-directories).
3.5mm Plug-In Single-Port Technology (charge/data/audio)
Soft Touch TPL Controls
Digital FM tuning (manual, auto, 20 stations store/recall).
IPX8 Waterproof Certification - Underwater to 3M (10FT)
Automatic Reset on USB Connection
Weight: One Ounce(25 grams)
System Requirements: Windows8/7/XP/2000/VISTA/Mac
Package Contains:
UWaterK8 -100% Waterproof 8GB MP3 Player/FM/Audio Books
All-Purpose 100% Waterproof Stereo Earphones
Silicon Ear-Tips (multiple sizes)
Detachable Clip
USB Cable for easy downloading from PC, Laptop, Net book
Owner's Manual
Manufacturer's Warranty
Gift Box
About Fitness Technologies, Inc.
Fitness Technologies, Inc., a member of THE SAMCO GROUP, has been enhancing lifestyles with waterproof electronics since 1996. Fitness Technologies SwimmersChoice FM Radio, introduced in 1997, was the best-selling waterproof radio for over a decade. The second generation TEMPOG1 and TEMPOG2 were the first smart waterproof MP3 players on the market. The third generation UWaterG2 and UWaterG4, the world's smallest waterproof MP3 players, became immediate best sellers in their category, as was the UwaterK7, world's smallest swim radio. The UWaterK8 was developed using feedback from end-users and over 15 years of experience. For more information see http://www.FitnessTechUSA.com or contact info(at)fitnesstechusa(dot)com or call (201) 457-0030
Additional Images: http://www.gearedtobefit.com/files/Images.pdf