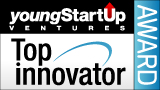 We're excited about the momentum developing with eGood, and this adds even more to it.
New York, NY (PRWEB) June 13, 2013
eGood was chosen as a presenter at the 13th annual New York Venture Summit at The Digital Sandbox Network Event Center on June 17-18. The premier industry gathering was created by youngStartup Ventures to connect the country's top start-ups and early-stage companies with an exclusive audience of venture capitalists, angel investors, and strategic partners. eGood was selected as one of 50 Top Innovators, and one of just a few companies in the technology/social good sector, making presentations.
"We're excited about the momentum developing with eGood, and this adds even more to it," said founder and CEO Zack Swire. "We've already seen a growing demand in the U.S. market. Just recently at Sustainable Brands '13, we learned the global demand is much greater than we realized as well, especially in countries like the UK, Germany, China, and Brazil."
For now, eGood is proving itself by getting off the ground in Glendora and Claremont, California, where six months of signups have resulted in over $4,000 in donations to 12 causes. According to Swire, "With a relatively small donation base, we've already seen a significant impact. Imagine what we can achieve when eGood takes off around the country and around the world."
About eGood:
eGood is a movement about choosing good. It empowers businesses to give to worthy causes, activates the community, and allows users to track their impact and see how ordinary actions create extraordinary change. eGood's goal is to become the ubiquitous way for businesses to give back while providing sustainable benefits to all parties. Find out more at http://www.egood.com.