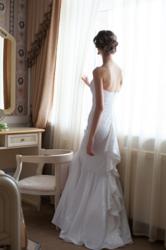 Newport Beach, CA (PRWEB) June 13, 2013
This season wedding guests will be more than just onlookers. With brides and grooms getting creative with the guests' dress codes, family and friends are feeling like active participants in the event (http://www.today.com/style/fab-brooklyn-formal-rise-quirky-wedding-dress-codes-6C10021066).
Wedding dress codes used to be simple to decipher, ranging from casual to black tie. But with options today including "beach chic" and "over-the-top," guests are playing dress up rather than just dressing up for the special occasion.
"Incorporating a unique dress code for guests is a way for couples to really engage them," says Brett Reynolds, CEO of Wedding.com. "Weddings are no longer only a formal occasion. Brides and grooms are looking to have fun with their wedding day, and asking guests to dress appropriately for the wedding's feel or theme makes them feel included into that fun atmosphere."
Aside from guests feeling more included, couples are using these creative dress codes in order to have better wedding photos as well. Some brides and grooms choose to ask guests to only wear certain colors, creating an effect for the photographer during candid shots at the reception or shots caught as the bride walks down the aisle.
One possible setback with creative dress codes is guests not understanding what attire it actually calls for. And to avoid guests showing up in bikinis and Speedos to "beach chic" weddings, brides and grooms are solving this problem by including vivid descriptions and even photos of what they are looking for on their wedding Web site. Older guests who may not have access to computers (or even know how to use them) might need a phone call for explanation on what attire is expected, or they may show up in what they consider wedding appropriate. Couples should have an open mind when it comes to situations like this, as it is likely that not all guests will follow the dress code whether by choice or not.
When it comes to a wedding's dress code, a couple is only limited by their imagination. From following a theme to a color scheme, it's a trend that will continue to be prevalent this wedding season.
About Wedding.com
Wedding.com is an innovative new website that connects engaged couples planning their wedding with wedding vendors looking to grow their business. Wedding.com contacts vendors for couples, giving them the power to compare and negotiate while ultimately saving time and money. With 15,000 couples and 25,000 vendors currently using the website, 150,000 proposals have already been sent since their inception. Vendors range in services from wedding planners, photographers, florists, and DJs to custom invitations, party favors, and much more. For additional information about the company and its services, please visit Wedding.com.