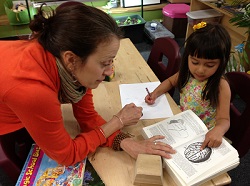 "Science is all around us. Don't be afraid to encourage exploration, collect specimens and ask questions!" - Dr. Leonisa Ardizzone
(PRWEB) June 14, 2013
Travelling, reading books, playing math games, and visiting museums are all great ways of preventing the "summer slide". But how can you also make sure kids keep up in science? With more than twenty years of experience in the field of science education, Dr. Ardizzone, founder of Storefront Science, wants to help parents "see" that science is all around. So, if your child cannot attend a StoSci Summer Science Camp, then try these "Five Ways to Keep Science ALIVE" this summer.
1) Make a collection of found objects. No matter where you are, you and your children can create collections of items to observe and continue studying later. Pine cones, sea shells, pebbles, leaves, etc… make great specimens for exploration. But remember, do not take things that are living or part of protected environments. Once home, use a magnifying glass or microscope to "get closer" or sort the objects based on a variety of characteristics.
2) Talk to a butcher, fishmonger or farmer. Shopping for meat, fish, cheese and vegetables is a great way to "play" science with kids. Observe the offerings and categorize them, discuss characteristics and ask about where they are raised/grown.
3) Stare at the sky, wonder and record your kids' questions and observations. During the day you can talk about clouds, the sun and weather. At night, explore stars and planets. Use their questions for deeper exploration and research.
4) Carry a tree (or flower) identification key or app. A great way to get kids thinking scientifically is to practice identifying trees. They can use leaves, fruits, flowers and bark to name plants and learn about where they live and what they need for survival. There are great tree guide books for just about every region of the world.
5) Don't just cook, create! Let your children help in the kitchen. Measurement is a great way to keep scientific thinking alive, but go a step further and consider the possible chemistry that you can explore. Instead of following a recipe, experiment with different flavors (salty, sweet, bitter, sour and umami) and how best to combine them.
A summer of science is right outside your door. Try these ideas and let Storefront Science know how they went. Stay tuned for science exploration kits and an app coming fall 2013 from Storefront Science.