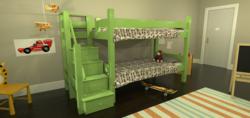 Using only milk paint and polywhey finishes, Maine Bunk Beds is uniquely able to offer modern, no-VOC beds for the eco-friendly and chemically conscious parent.
BRUNSWICK, ME (PRWEB) June 13, 2013
Maine Bunk Beds has made it simple to search for a safe and environmentally friendly bunk bed for a child's bedroom, camps, vacation homes and ski lodges. The company has recently launched http://www.MaineBunkBeds.com along with a redesigned product line.
Maine Bunk Beds understands that a bunk bed is more than just a piece of furniture to both parents and children. To a child, a bunk bed can be their "fort," their "spaceship" or just a place to hide out and imagine. To parents, a bunk bed needs to be safe, durable and functional. Maine Bunk Beds knows that bunk beds are a place for friends and families to share and make fun childhood sleepover memories, and they recognize the importance of providing a safe, nontoxic, sturdy and environmentally friendly product.
MaineBunkBeds.com allows shoppers to browse Maine-crafted, custom bunk beds that will last a lifetime. All beds are made from natural, sustainable materials from the USA. Parents can have peace of mind knowing that all bunk beds are also safe for their kids—made with solid hardwoods and nontoxic materials and finishes. Maine Bunk Beds finish their beds with all natural no-VOC Milk Paint and polywhey—made from the byproduct of cheesemaking. The finishes come in a range of colors and gives the beds a simple modern look.
The newly designed nontoxic bunk beds have been engineered from the ground up to be green, sturdy and easy to assemble with a classic/contemporary appeal with features such as:

Hardwood construction.
Sturdy oversized posts and rails for added strength and stability.
No metal braces or plates. The beds connect using large architectural bolts.
Integrated ladder reduces trip hazards and shifting while climbing.
They use no-VOC paint finishes, but rather organic finishes that are 100% green.
Web visitors can simply click their mouse to create the bunk bed of their child's dreams. Beds offered include modern bunk beds, lofts, trundles and even triple bunks. The website gives detailed information on colors offered, nontoxic paints and finishes that are used, accessories and features, safety features as well as testimonials and reviews. Shoppers can also generate a quote on the fly, access the secure online ordering system and learn about mattress options as well as delivery availability.
"We are excited about the launch of MaineBunkBeds.com," said Steve Pogson of Maine Bunk Beds. "We are parents ourselves and we want parents to feel completely comfortable about purchasing bunk beds for their children so we put every bit of information they would need to make an informed and educated choice. The pictures of the beds give the buyer a firsthand look at how the bunk bed will look and they can choose the color they want for their custom-made bunk bed."
Learn more at http://www.MaineBunkBeds.com.
About Maine Bunk Beds
Maine Bunk Beds was originally founded by Scott Taylor, who came to understand how important it was to protect children from unnecessary chemical exposure after his own son fell ill following toxic exposure and was ultimately diagnosed with multiple medical problems, including autism. Scott decided to expand his established carpentry business to build Maine Bunk Beds in 2009, devoting his business to making beds that were safe for kids and affordable for parents.
Our shop is located along the banks of the Androscoggin River in Brunswick, Maine, and your Maine Bunk Bed will be handcrafted with love and care by local craftsmen using the greenest materials and practices possible. Nothing gives us more pride than creating a beautiful piece of furniture for your family that is safe and made to last a lifetime. Environmentally Friendly. Sustainable. Local. Made in the USA. These are the hallmarks of Maine Bunk Beds.