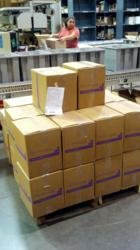 Tyler, TX (PRWEB) June 12, 2013
Residents of West, Texas, are only beginning to piece together their lives after a massive fertilizer plant explosion rocked their small town. The community's middle and high schools were among the casualties of the blast that ended lives and flattened homes and buildings. To help its fellow Texans with the recovery, Mentoring Minds is donating hundreds of math learning resources to the students and teachers at West Independent School District (WISD).
Mentoring Minds develops learning tools that encourage critical thinking for effective problem solving in and outside the classroom. The student and teacher learning resources that the company is donating to WISD are from its popular STAAR Motivation Math series, designed by Texas educators for Texas students.
"We made this donation to help ensure that WISD students and teachers have everything they need to be successful at the start of the 2013-2014 school year," said Robert Bush, CEO of Mentoring Minds. "It is part of our ongoing commitment to giving back to the education community in Texas and around the country."
STAAR Motivation Math is a rigorous mathematics resource for grades 1-8 developed to integrate critical thinking and focused reinforcement into classroom instruction. STAAR Motivation Math addresses each STAAR Readiness and Supporting Standard and reflects the increased rigor of the new assessment. The learning resource will help WISD students build mathematics vocabulary, and mathematical reasoning and critical thinking skills. Mentoring Minds is donating both student and teacher editions of STAAR Motivation Math to WISD.
About Mentoring Minds
Founded more than a decade ago by Michael Lujan and his wife Lisa, Mentoring Minds develops affordable, effective learning tools that help children think critically. The company's dynamic team of exceptional teachers, curriculum coordinators and administrators works with thousands of schools across the nation that use Mentoring Minds' learning tools to create classrooms where students learn how to problem solve and teachers are confident in their ability to help each student.
For more information about Mentoring Minds, visit http://www.MentoringMinds.com.
###