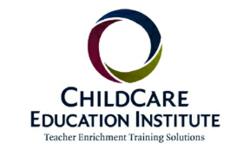 So many seasoned professionals fall into a rut of thinking they know all there is to know in areas such as hygiene or classroom cleanliness.
Duluth, GA (PRWEB) June 13, 2013
ChildCare Education Institute (CCEI), an industry-leading distance training provider, announces HLTH104: Basic Health and Hygiene Practices for the Early Childhood Setting as the latest addition to the CCEI catalog of 100+ online child care training courses online.
Preventing the spread of infectious diseases in child care settings and promoting clean environments are routine tasks for early childhood educators, and health updates on best practices are continuing to be made. CCEI's Health and Hygiene Practices course provides participants the opportunity to learn about various types of bacteria, viruses, and other pathogens and how they spread. This course provides the latest recommendations and standards from the American Academy of Pediatrics and other national health organizations. Topics include hygiene practices, immunization policies, criteria for exclusion from group child care, recognizing signs and symptoms of disease, cleaning and sanitization policies, and communicating with families.
"So many seasoned professionals fall into a rut of thinking they know all there is to know in areas such as hygiene or classroom cleanliness," says Maria C. Taylor, President and CEO of CCEI. "Like various other training topics, however, updated data and new developments can supplement preexisting knowledge, leading to healthier experiences for our children."
This course is a two-hour, beginner-level training, available for purchase through online enrollment now. CCEI students with active, unlimited individual or center-based subscriptions can enroll in this course at no additional cost when logged in to their account. Upon successful completion of the course, students will receive 0.2 IACET CEU.
All training coursework is self-paced, which allows CCEI students the ability to resume courses at the exact point where they signed off previously. For more information on ChildCare Education Institute, visit http://www.cceionline.edu or call 1.800.499.9907, Monday – Friday, 8 am – 5 pm EST.
About CCEI
ChildCare Education Institute provides high-quality, online professional development courses and programs for educators in an array of child care settings, including family child care, preschool centers, prekindergarten classrooms, nanny care, and more. Over 100 English and Spanish child care courses are available online to meet licensing, recognition program, and Head Start requirements for training. CCEI also has online certification programs that provide the coursework requirement for national credentials including the CDA, Director's Credential, and Early Childhood Credential. CCEI is nationally accredited by the Accrediting Commission of the Distance Education and Training Council (DETC), approved by the International Association for Continuing Education and Training (IACET) to award IACET Continuing Education Units (CEUs), and authorized under the Nonpublic Postsecondary Educational Institutions Act of 1990, license number 837.