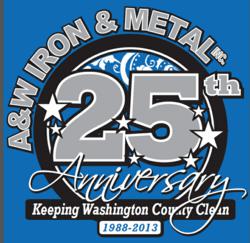 (PRWEB) June 12, 2013
A&W Iron & Metal, Inc., located at 7588 Otten Drive in Kewaskum, is celebrating their 25th Anniversary by giving away free commemorative t-shirts to the first 200 customers at the southeastern Wisconsin recycling company. All visitors will also have the chance to enter a drawing to win tickets for the Eagles July 7th performance at Summerfest.
Customers can register to win Eagles concert tickets all week long before the drawing on July 5th at 3pm. The Eagle's concert is being held July 7, 2013, that same weekend. The t-shirt give-away will be held on the 5th and will reward the first 200 customers with a free t-shirt.
"Thank you to Washington County and the surrounding areas for your continued dedication to A&W. Over the past 25 years, we have been truly blessed to have such great customers and employees in making this company a success." –Lana Alexandra, Owner of A&W Iron & Metal, Inc.
A&W Iron & Metal, Inc. serves the recycling needs of the greater Milwaukee area and beyond. Items that can be recycled at A&W Iron & Metal, Inc. include, but are not limited to: aluminum cans, scrap aluminum, batteries (vehicle), brass, bronze, cast iron, carbide, copper, EDM wire, insulated wire, lead, nickel, radiators, silver, appliances - no Freon(stoves, washers, dryers, dishwashers, metal water heaters and softeners, humidifiers, etc.), farm machinery metal, vehicles (cars, trucks, buses, lawn mowers, tillers, cycles, snowmobiles, etc.), sheet iron, steel, tanks (open and dry), tin and tin cans, stainless steel, zinc).
For the good of the environment, this conscientious Wisconsin recycling facility accepts metal, scrap, aluminum, and copper. Going green takes on an entire different meaning at A&W, their professional service team provides the highest return on your recyclable metal in Wisconsin.
For more information on A&W Iron & Metal, visit http://www.awironmetal.com.
About A&W Iron & Metal, Inc.
Since 1988, A&W Iron & Metal, Inc. has been aiding the environment and helping our State to go green as a prominent southeastern Wisconsin recycling center. With an unwavering commitment to improving the environment, A&W's goal is to cut down on landfill volume by promoting, preparing and marketing scrap metal while offering generous payouts for recyclable metals. A&W also offers a variety of containers and services that can be customized to your business or residential needs. Their commitment to preserving the earth is unparalleled, as this recycling center provides containers for pick-up service and has commitment to preserving the earth. Such efforts have made A&W Iron and Metal, Inc. one of Wisconsin's most dedicated recyclers.