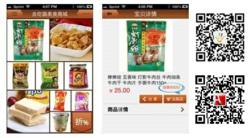 Zhangyingbao won a lot of attention, at our initial release earlier this year, as a bridge between Taobao sellers and buyers who prefer to shop and communicate by using their smartphones - Charles Liu, senior VP and chief technology officer, Appconomy
Shanghai CHINA and Austin TEXAS (PRWEB) June 13, 2013
Appconomy announced today a significant update to the Zhangyingbao mobile service that is powered by the Appconomy platform, including a new and improved user interface for Zhangyingbao-generated mobile apps and the ability for app users to extensively share and promote their Taobao shopping experiences through popular Chinese social media like Sina Weibo and Tencent Wechat. In addition, with this update, apps created through the simple, non-technical Zhangyingbao service will support greater integration with Taobao, for example, allowing the display of 200 products, versus the previous limit of 50 products, increasing the information content and choices each Taobao merchant can present to their buyers. Taobao is the biggest consumer-to-consumer online shopping platform in China.
"Zhangyingbao won a lot of attention, at our initial release earlier this year, as a bridge between Taobao sellers and buyers who prefer to shop and communicate by using their smartphones," said Charles Liu, senior vice president and chief technology officer at Appconomy, Inc. "So far, with only word-of-mouth promotion, there have been more than forty thousand downloads of Zhangyingbao-generated mobile stores by Taobao buyers. It is gratifying to see Zhangyingbao, which is the result of a market-driven collaboration between Neusoft's design and engineering prowess and Appconomy's mobile, retail platform, become a popular service."
With this Zhangyingbao upgrade, sellers can quickly and automatically release promotion information about any new or on-sale products by linking their Weibo accounts, so that followers can receive the alerts immediately. Further, through the Zhangyingbao website – which is a dedicated website created to feature all Taobao merchants who have generated their own branded, mobile app with Zhangyingbao – sellers will be able to build marketing campaigns and launch auto replies for public Wechat accounts, through which buyers can receive promotional messages, browse products and promotions, and make purchases.
About Zhangyingbao
The Zhangyingbao mobile service is a collaborative initiative between Neusoft Corporation and Appconomy, Inc. Zhangyingbao is designed, integrated, and supported by Neusoft, and is based on Appconomy's mobile platform. The Appconomy platform (http://www.appconomy.com) for mobile marketing and commerce connects consumers with merchants through its apps for smartphones, tablets, and other mobile devices. Neusoft Corporation (http://www.neusoft.com) is China's largest IT solutions and services provider. Taobao sellers can sign up to generate their own mobile app in less than 5 minutes and Taobao buyers can download for free one or more apps from their favorite merchants by visiting http://www.zhangyingbao.com.