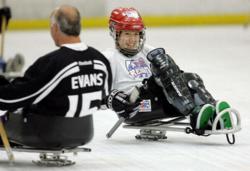 "We believe that the game of hockey teaches not only physical skills but should teach life skills necessary for our youth to develop into good citizens of our community." – Hockey Director Matt Dunaev
Riverside, CA (PRWEB) June 13, 2013
The Sled Hockey program at LA Kings Icetown Riverside is an instructional skill development program for disabled athletes. The goal of the program is to provide a fun, instructional curriculum geared towards teaching hockey foundations in each player's athletic development. The program will allow for the hockey coach to focus their efforts on skill development and game education. Well into its second year of operation at L.A. Kings Icetown, Junior Reign Sled Hockey is already creating buzz when one of their own participating athletes, Kyoungmoon "K" Shin returned home to Korea to play for his home team in the USA Hockey Sled Cup, held in North Carolina at the end of January. Korea didn't medal, but "K" worked hard to support his team.
The Sled Hockey program is an excellent introduction to the sport of hockey for disabled athletes. Sled Hockey is an exciting team sport requiring precision and teamwork. Sportsmanship, team play and hockey skills will be emphasized in this program. As one participant stated, "Sure we are competitive but really sled hockey is all about having fun, but, I also think it is a game that gives those of us with physical disabilities the opportunity to play a contact sport and have a good time doing it."
As the first sled hockey team in Southern California fundraising is key. In 2012 Jr. Reign Sled hockey fundraising was primarily focused on buying enough sleds, sticks and safety gear to build a strong, solid team. After a successful fundraising run last year, this year they concentrating on raising travel funds. This year the team is gearing up for some serious road trips, including a rematch in Phoenix, a game in Colorado, and hopefully the NHL Sled Classic in November. Now, the L.A. Kings have jumped on board to support the team and with their support the Jr. Reign Sled hockey team qualifies to participate in the NHL Sled Classic. Since it's not likely to be held on the West Coast this year because sled hockey is so new to the region, the team needs some major funding to make this happen.
If your employer has a grant program that the team can apply for, or if they are simply willing to sponsor a local sports team, please contact the Todd Jenkins of the Jr. Reign Sled Hockey program with details. 2013 will be a great time of growth for Junior Reign Sled Hockey, and they appreciate the support they have received from all over.
Junior Reign Sled Hockey practices at L.A. Kings Icetown every other Monday evening from 7:00 to 8:30 PM. For more info, contact Todd Jenkins at TJenkins(at)JrReign(dot)com or (909) 863-1000.