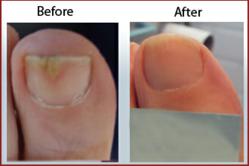 Studies by PinPointe have reported 71.4% of past patients experienced continuous improvement after getting the toenail fungus laser treatment
Knightsbridge, London (PRWEB UK) 17 June 2013
Beauchamp Foot Care has a Summer promotion of £100 off toenail fungus laser treatment and invites anyone suffering from the embarrassing ailment to call the clinic and arrange a free consultation to learn about the revolutionary treatment available.
The toenail fungus laser treatment is a non-invasive procedure developed specifically to treat fungus that affects nails. The PinPointe laser is a medical device that shines a laser light beam through the toenail and vapourises the pathogens inside the nail bed and nail plate.
The laser treatment only lasts approximately 60 minutes and can also be effective on fingernails. When compared to alternative results like oral medications or topical ointments and polishes, the treatment produces impressive results. Patients don't usually report any pain during the treatment or suffer from unpleasant side effects.
"For more than 10 years I've been battling with a horrible toenail fungus," said Carol from Surrey, a patient at Beauchamp Foot Care. "I've tried prescriptive drugs, tea tree oil, paint on liquids, you name it, I've tried it. I've had two laser treatments and am so excited to see healthy nail appearing and the hideous fungal infection finally growing out."
The laser treatment does not cause toenails to fall off or become discoloured. New healthy nail growth should be visible within the first three months. Studies by PinPointe have reported 71.4% of past patients experienced continuous improvement.
To learn more about toenail fungus laser treatment, find full details on this offer and book a free consultation visit http://www.beauchampfootcare.com or call 0800 907 0093.
About Beauchamp Foot Care
Beauchamp Foot Care is a clinic founded in 1990 with four experienced, highly qualified dedicated foot specialists plus support staff. The clinic treats patients for a variety of foot conditions related to fungal nail infections and general chiropody. Beauchamp Foot Care is located in central London close to Harrods. The clinic's podiatrists/chiropodists are members of The Institute of Chiropodists and Podiatrists and are registered with the Health & Care Professions Council. The podiatrists each have over 20 years' of qualified experience in podiatric care.