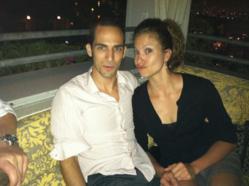 "No matter what [a guy] wants in a woman," Pellicer promises, "[The Tao of Badass] will help get it."
New York, NY (PRWEB) June 14, 2013
Josh Pellicer wants to tell his story (click HERE to hear it). The men's dating advice author of the breakout book, The Tao of Badass, claims he wasn't always a ladies' man. "Just a few years back, it wasn't pretty," claims Pellicer.
According to the best-selling Clickbank author, things weren't always easy for him. He says he was "whipped" in a relationship with a girl who he describes as a "total ice queen."
He elaborates on his back-story in a presentation he recently made public for a limited time. To hear Josh Pellicer tell his self-described "sob story" click HERE.
That story was the inspiration behind the Tao of Badass book, which began what Pellicer calls "the movement." "No matter what [a guy] wants in a woman," Pellicer promises, "[The Tao of Badass] will help get it."
According to Pellicer, attracting women is a learned skill, and he asserts that, "Guys who learn from me are a different breed of man." The skills Pellicer claims to teach men include "mind hacks" that get men believing they are "hot" which instills them with confidence.
Pellicer's "system" for attracting women covers all the bases. He maintains that he change everything a man does around women—from how a guy walks to taking things back to the bedroom. Pellicer is confident he can do a "confidence overhaul" for most men.
Yet, Pellicer doesn't want to be seen as a "guru." He asserts, "I'm just a regular guy!" He then goes on to detail, "I'm not good-looking. I'm skinny, about average height, not the kind of guy that women gravitate toward."
That's why he says he's so upfront about his past. He wants men to know his backstory so that they know he went from a "Lovable Loser" to what he says is "being a badass at meeting and attracting women."
Many would agree that Pellicer's on to something. Both students and other dating columnists have applauded Pellicer's work in the men's dating advice space. Christian Hudson, owner of The Social Man, said about Josh, "There are a lot of coaches out there who can tell you what works for them. And the good ones can teach you how to replicate it. But the brilliance of Josh's teaching is that he'll figure out what works for you."
Paul Janka, another coach in the men's dating advice arena, agrees, saying, "Josh is a teacher in the truest sense of the word – a man who immediately puts his students at ease because he relates to their position and can see the world through their eyes."
Indeed, single men everywhere can probably learn a thing or two from Mr. Pellicer and his book, The Tao of Badass. To learn more about Josh Pellicer, "the movement," and his book, The Tao of Badass, visit his website by clicking HERE.