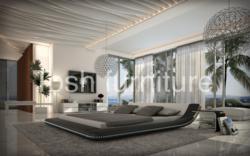 Modern Furniture
Los Angeles, CA (PRWEB) June 13, 2013
"It's been a slow dance, but one we deliberately wanted to move slow to ensure we were incorporating the right angles, lighting and design elements to really showcase our contemporary furniture," explained a DA Stores management spokesperson. The result is a spectacular use of floor space, every inch carefully designed and beautifully arranged.
"It really is a work of art," explained one customer who was seen leaving the new Los Angeles store.
Customers are encouraged to make an appointment to visit the showroom, as the company remains focused on the exclusivity of the experience. "Many of our clients appreciate the freedom they're allowed when given exclusive access to the area. We want to ensure all of our customers enjoy that same VIP treatment."
To schedule an appointment, please call (866) 838 8710 or locally, you can call (323) 782 0880. Your personal representative will ensure your arrival is anticipated and your experience is positive. The showroom's hours are 8 a.m. to 9 p.m. PST Monday through Friday and 9 a.m. to 5 p.m. PST Saturday and Sunday. Special accommodations can be made for those who need them.
Also, clients are encouraged to follow the website for even more updates and to also follow the company on both Facebook and Twitter.