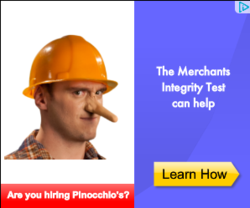 By qualifying an applicant with the Merchants Integrity Test employers can spot the Pinocchio-the high-risk employee-before expensive background and drug screening and before wasting staff time and resources
(PRWEB) June 18, 2013
Pinocchio, the icon instantly recognized as dishonest is at the center of a major national marketing campaign launched by Merchants Information Solutions ("Merchants") to help employers see the enormous problem of untruthful job applicants and the financial and brand protection benefits realized by using the Merchants Integrity Test to qualify before hiring.
The dishonest nose-growing literary character 'Pinocchio' created by Carlo Collodi in the 1880s and a pop culture favorite (the Pinocchio film released in 1940 ranks 43 among most popular films, with ticket sales of 65+ million) serves as effective imagery to illustrate the huge problem of untruthful job applicants and alludes to the high-risk, costly challenges employers face with a dangerously growing number of dishonest job candidates.
Today's technologies, the internet, a highly mobile society and restrictive labor laws make it all too easy to fake credentials and hide unsavory backgrounds enabling unworthy job applicants to slip through the hiring process costing employers billions in avoidable work comp, harassment, hostility, stealing, litigation and related costs. Merchants' statistics based on millions of tests administered show that up to one quarter of job applicants are Pinocchio types and as such are high risk and aren't integrity qualified.
"We've all been 'stung' by a 'Pinocchio' we've hired. The candidate looked good on paper, was a good interview and had references, but the harsh reality is unless we know what the job candidate considers acceptable behavior, how that candidate thinks about what's right and wrong. We don't know who we're hiring and all too often it's a very costly Pinocchio," says Russ Johnson, CEO, Merchants. "By qualifying an applicant with the Merchants Integrity Test employers can spot the Pinocchio—the high-risk employee--before expensive background and drug screening and before wasting staff time and resources. And of course of greatest importance avoid hiring the troublesome employee," Johnson explains.
Merchant's administers 100,000+ of its EEOC compliant Merchants Integrity Tests each month for employers ranging from hospitality and manufacturing to healthcare, education, services, retail and construction. On average around 25% of job applicants taking the Merchants Integrity Test are deemed "unqualified" enabling employers the option to avoid these likely costly employees.
"The potency of the Merchants Integrity Test to avoid Pinocchio's, to actually qualify candidates and avoid problematic hires is so strong we guarantee mutually agreed upon financial results or we refund fees. We've never had to do a refund for not achieving the agreed results," Johnson says. "We have and will provide unequivocal test results data, independent research done by prestigious universities, opinions of human resource experts as well as client-provided financial benefits statistics that underscore the power of qualifying before screening or hiring with the Merchants Integrity Test," Johnson says.
"We were looking for a simple yet very compelling marketing strategy to raise awareness of the dishonest job applicant problem and that we have a proven means to help employers disqualify the fakers, thieves, litigation-causing and brand damaging job applicants. As a result, we've built an information and awareness platform around the benefits of a trustworthy versus 'Pinocchio' employee, Johnson says.
Merchants' Don't Hire Pinocchio's awareness campaign is being rolled out via internet, direct mail, video and other marketing channels. Information about the Merchants Integrity Test can be found at http://www.nopinocchios.com
About the Merchants Integrity Test:
Noted for reducing workers' compensation loss rates by an average of 60% and reducing workplace hostility, theft and fraud while guaranteeing results, the powerful Merchants Integrity Test has saved employers millions of dollars each year by screening out high-risk job applicants who engage in counterproductive behaviors.
About Merchants Information Solutions:
Merchants Information Solutions, the exclusive provider of the Merchants Pre-employment Integrity Test which is proven to reduce worker compensation rates an average of 60%, is a national leader in background screening for employers and residential communities as well as a leader in ID Theft Restoration Affinity programs. Honored to have as company national spokespersons Jerry Colangelo and Harvey Mackay, Merchants was founded nearly a century ago and is dedicated to delivering world-class identity theft and background screening solutions. Merchants is the only NATIONAL SINGLESOURCE PROVIDER of all recognized background screening tools and services for employers and multi-housing communities. http://www.merchantsinfo.com