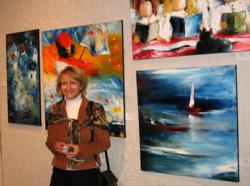 Painting isn't just a need for me, or just a release, it's a passion fed by the desire for escape and the quest for freedom
(PRWEB) June 12, 2013
Noted Canadian contemporary artist, Joanne Savoie, is pleased to announce that she will participate in a Vernissage at the Ward-Nasse Gallery in New York on June 20, 2013. This Vernissage is being held in conjunction with the June Summer Solstice 2013 International exhibition. The Ward-Nasse Gallery is located in Soho, 178 Prince Street, New York, NY 10012.
Ms. Savoie is no stranger to the New York art scene, as she previously participated in the Women in Art exhibition at the Ward-Nasse Gallery in 2011. Her paintings represent some of the best examples of "art contemporary". She has exhibited her work in Toronto, Montreal, Ottawa, New York, Los Angeles, Paris, Barcelona, and Brussels, and will be participating later this year in the Spoleto International Art Fair, at Palazzo Leti Sanzi, in Piazza del Mercato, Spoleto, Italy.
In the genre of contemporary art, Joanne Savoie has her own style, which joins illusion and reality, abstract and image, in a style that could be described as impressionistic "dreaming". She mainly uses a spatula, which gives movement and life to her paintings. The interaction between her and her canvas is immediate. She is constantly trying to grasp the impression of the moment, the fleeting emotions that, with her acute sense of observation and her overflowing imagination, allow her to perceive ever-more intriguing subjects.
"Painting isn't just a need for me, or just a release, it's a passion fed by the desire for escape and the quest for freedom," said Joanne Savoie. "Each painting is another wander down new roads, with unsuspected destinations to savor."
Joanne Savoie's paintings have been sold throughout Canada and the United States, in Europe and as far away as China. Her work is on permanent display at the entrance to the Government of Canada Conference Centre, near Canada's Parliament Buildings in Ottawa.
Examples of Joanne's contemporary art can be seen on her website