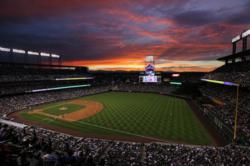 Denver, Colorado (PRWEB) June 13, 2013
Sixty-five games into the 162-game regular season, the Colorado Rockies are at the top of sports ticket search queues. The team is currently ranked second in the National League West behind the Arizona Diamondbacks.
Naturally, these metrics morph almost daily, says Felina Martinez at online ticket marketplace BuyAnySeat.com. But as of today, the top twenty sports ticket searches are MLB Baseball teams, followed by the NHL Stanley Cup finals.
And, of the 30 teams in major league baseball, the Colorado Rockies are presently getting the most hits. The other top trending teams are: the Detroit Tigers, Texas Rangers, New York Yankees, Baltimore Orioles, Boston Red Sox, Los Angeles Dodgers, Minnesota Twins, Atlanta Braves and Tampa Bay Rays.
"It's summer, so it's no surprise that MLB Baseball tickets are trending higher than other sports events," said Felina Martinez at online ticket marketplace BuyAnySeat.com. "The NBA and NHL Finals, soccer, tennis, NASCAR and WWE events also tend to spike prior to many their big events."
"That's why we're proud to offer sports fans the most complete and continuously updated selection of sports event tickets online, with a worry-free guarantee to protect their purchase," said Martinez.
"To access the full line-up of cheap MLB Baseball tickets now available, customers can go to BuyAnySeat.com and click on MLB - then select their teams and tickets," said Martinez.
The season's first batter took the plate on March 31 with a Sunday night game between the Texas Rangers and the Houston Astros. Opening Day for most clubs was the following Monday, April 1. This year's 162-game season, split between home and away games for each squad, runs through Sunday, September 29.
The Colorado Rockies have played at Coors Field in Denver since 1995. The stadium seats 50,480 fans. The team record is currently 35 wins – 30 losses, ranking the squad second in the National League West behind Arizona. The Rockies are currently hosting the Washington Nationals (31-32) in game three of their series tonight. Tomorrow night, the Philadelphia Phillies (31-34) come to town for a three game run.
MLB Baseball has the highest season attendance of any sports league in the world. (Source: wikipedia.org)
To shop for cheap MLB Baseball tickets, visit BuyAnySeat.com.
About BuyAnySeat.com: An online ticket marketplace, BuyAnySeat.com connects sports, theater and other live entertainment fans to an extensive worldwide network of ticket sellers. The site's simplified listings and navigational tools enable fans to easily locate, compare and purchase inexpensive, discounted or lower-priced tickets to virtually all advertised sports and entertainment events around the globe.
The marketplace, which is PCI-compliant and Norton Secured, also provides customers with a complete Worry-Free Guarantee on all ticket purchases. Based in Denver, Colorado, BuyAnySeat.com is a subsidiary of Denver Media Holdings. For more information, please visit http://buyanyseat.com.