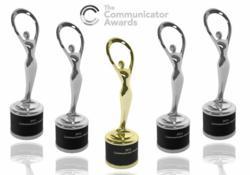 That our websites again this year are judged among the best in the world is a source of pride for us – and a continuing motivator - Jerry Schroeder, President of enCOMPASS Agency
Cornelius, NC (PRWEB) June 17, 2013
After judging thousands of entries from around the world, the International Academy of the Visual Arts (IAVA) recently awarded five 2013 Communicator Awards to enCOMPASS Advertising Agency – the same number as 2012.
A new website for an established New York hair loss studio and salon won the interactive marketing agency silver Award of Distinction statuettes in two categories: Beauty & Cosmetics and overall Visual Appeal. Designed to maximize response, the site features an easy-to-arrange free consultation sign up, service discounts, a before and after gallery, newsletter signup, contact info – even video from the International Beauty Show.
The new honors continue a trend: enCOMPASS-designed websites for hair loss salons and studios have now earned multiple Communicator Award statuettes for two consecutive years. In fact, Schroeder's shop has assumed a leadership position in familiarizing studios with the interactive landscape.
There's plenty to harvest, too. An estimated 35 million men and 21 million women in the U.S. are experiencing hair loss and are open to surgical solutions as well as non-surgical products and services to maintain their physical appearance.
Schroeder's agency specializes in helping clients better connect with prospects and make greater use of online marketing. He's a featured presenter at workshops and conferences sponsored by such hair loss industry manufacturers as OnRite, Transitions, NewImage University and others.
There, he schools hundreds of business owners from around the world on ways of making full use of online marketing techniques that turn prospects into customers. His usual topics include website strategies, pay per click implementation, SEO, content management, display advertising, pre-roll video advertising, email marketing and emerging trends.
"What works best can change from client to client," Schroeder said, "but the basics continue to be critical. At the backbone of successful online marketing is selection of the best digital partner, developing a website founded on the best strategy and executing the right search engine marketing campaign."
To find out more about the enCOMPASS Agency and its Interactive Marketing Intelligence™ (IMI) platform, call (704) 896-9978 or visit http://www.encompassagency.com.