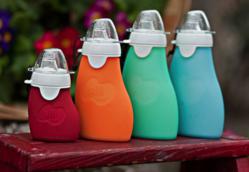 It's Not a Bottle, It's a Reusable Food Pouch!
West Des Moines, Iowa (PRWEB) June 13, 2013
Calling all Parents! Bliss Baby & Maternity introduces Sili Squeeze. A spill proof, mess free way for kids to eat things like smoothies, yogurt, pureed foods, applesauce, and other ready-made snacks. This reusable food pouch was designed by a parent for parents. There are other food pouches available with product in them but these are reusable. These food pouches are convenient for picnics, play dates, appointments, and road trips. Anytime heading out the door, a healthy snack can be in the diaper bag. Little ones can get the nutrients needed, no matter where they go hands free.
The Sili Squeeze is spill proof and has squeeze controlled spout. A child's natural instinct will provide them the skills to use the Sili Squeeze on their own. A discovery will be natural that squeezing the soft, silicone body while gumming the tip and sucking will give them the result they want which is the food inside. The spill proof design keeps the food in their mouth, not on their clothes.
The Sili Squeeze is made of certified food and medical grade safe materials that are BPA, Phthalate, and PVC. The body of the Sili Squeeze is 100% Silicone and the clear cap is DN011 Co Polyester. The two rings are Polypropylene and the nipple is a clear TPE (thermo-plastic elastomer). The reusable dispensers are eco-friendly and encourage healthy eating habits for kids of all ages. The soft silicone body is a comforting and tactile experience for all ages. The Sili Squeeze is also dishwasher safe and is easy to wash.
As with all other Baby and Maternity needs, please visit us often at http://www.blissbabyandmaternity.com. Go to the website for a limited time special discount on all orders.