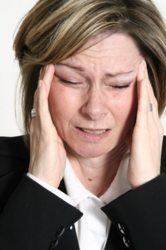 San Francisco, CA (PRWEB) June 13, 2013
Currently, more than 37 million people in the U.S. are diagnosed with migraines. Although 47 percent of the adult population experience headaches annually, these disorders are poorly recognized and inadequately treated. During June, Migraine and Headache Awareness Month, the California Society of Anesthesiologists (CSA) is helping raise awareness on the detection and treatment options for migraine headaches.
According to the National Headache Foundation, women are three times more likely than men to be affected by migraines. Migraines most commonly occur between the ages of 15 and 55, and 70 percent to 80 percent of sufferers have a family history of migraines. Less than half of all migraine sufferers have received a diagnosis of migraine from their health care provider. Migraines can be very painful, can interfere with daily activities and result in loss of work. Many patients are not adequately diagnosed or treated and may be prescribed opioid medications that can lead to dependence and worse headaches.
"People may not be aware that anesthesiologists trained as pain management experts can develop a treatment plan to reduce pain caused by migraines or other ailments," said Dr. Lynn Cintron, a member of the California Society of Anesthesiologists and a board certified pain management specialist at Santa Clara Valley Medical Center in San Jose. "If treated and managed properly, people do not have to suffer from the pain."
The California Society of Anesthesiologists recommends the following tips to reduce pain:

Get an evaluation – Consult with a doctor (pain or neurology specialist) to evaluate, diagnose and manage headaches, especially if they are severe and as a result of trauma. A brain scan may be needed.
Keep a diary – A diary can help clarify the nature of the headache and identify triggers that should be avoided to prevent future headaches.
Be aware of trigger factors – Stress, certain foods, smoking, lack of sleep or a family history of migraines can increase the risk for developing a migraine.
Reduce trigger factors to prevent or delay the onset of migraines – Exercise and diet can help reduce the number of migraine occurrences. Smoking should be avoided.
Talk to a physician about treatment options –Don't live in pain. Talk to an anesthesiology pain expert about available treatment options and how preventative therapies, non-opioid medications, injections and better health can lead to less pain.
For more information, visit http://www.csahq.org.
About the California Society of Anesthesiologists
The California Society of Anesthesiologists is a physician organization dedicated to promoting the highest standards of the profession of anesthesiology to foster excellence through continuing medical education and to serve as an advocate for anesthesiologists and their patients. For more information, please visit the CSA online at http://www.csahq.org/ Follow CSA on Twitter at https://twitter.com/csahq or Facebook at https://www.facebook.com/pages/California-Society-of-Anesthesiologists/146055412134
MEDIA, PLEASE NOTE: To request an interview, high-resolution photography and/or additional information, please contact Gretchen Krueger at Gretchen(at)landispr(dot)com or 925-914-0102 or Maricela Cueva at maricela(at)vpepr(dot)com or 626- 403-3200 ext. 215.