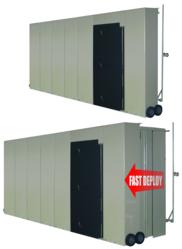 The Hide-Away™ solves a problem that many people believed to be unsolvable.
Kansas City, MO (PRWEB) June 14, 2013
Staying Home Corporation announced an innovative solution to school security. The Classroom Hide-Away™ Safe Room is a patent pending, bullet proof, deployable shelter system for schools, businesses & homes. It can be used to provide timely protection from an armed intruder, or dangerous weather. The ballistic metal used is military grade, and effectively stops up to, and including, .30 caliber armor piercing rounds. The Hide-Away™ is also tested to withstand an F5 tornado by the National Wind Institute (NWI), the official FEMA testing authority, and formerly the Texas Tech University's Wind Science and Engineering Research Center (WiSE).
The one-of-a-kind design folds up against a wall when not in use, freeing up valuable floor space. It can easily fit behind a whiteboard, at the front of a classroom. Once a school alarm is given, or lockdown event occurs, the Hide-Away™ can be deployed in seconds, providing shelter for students and staff from an armed intruder, or dangerous storm, in just seconds. An optional Camera System provides two-way audio communications between security cameras, smart phones, or tablet devices.
Mike Vogt, president and CEO of Staying Home Corp., said, "The Hide-Away™ solves a problem that many people believed to be unsolvable. It provides superior protection in worst-case scenarios, easily retrofitting into any classroom, providing a safe environment for students, teachers, and staff. It deploys in just a few seconds, giving everyone safe haven on extremely short notice."
Vogt continued, "This is a one-time expense solution. There's no ongoing payroll costs associated with hiring armed guards. And this solution doesn't involved bringing more weapons onto school grounds. It's safe, economical, convenient and reliable."
About Staying Home Corporation
Staying Home Corporation is located in Harrisonville Missouri about 25 miles south of Kansas City Missouri. SHC is a privately owned company that manufactures innovative products for the home and commercial markets. For further information, contact Amos Matlock or Mike Vogt at 816-380-2427, or visit StayingHome.com.