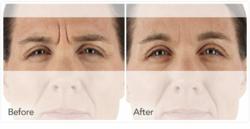 (PRWEB) June 12, 2013
Xeomin is a new FDA-approved cosmetic treatment offered by New You Spa to its clients, which is used to treat a variety of aesthetic problems including deep wrinkles and frown lines between the eyebrows, in the corners of the mouth and in the area under the eyes. However, it may also be used to treat hyperhidrosis, also known as excessive sweating, muscle spasms and migraine headaches. Jeff Nourse, is dedicating his work to providing the best cosmetic services to his clients, and is enthusiastic about the new treatment option because it offers wonderful results with few or no side effects.
Xeomin is essentially a purified form of Botox, which is the standard formula of botulinum toxin A that works by blocking the junction between the nerves and facial muscles, which causes a substantial relaxation of these muscles and significantly reduces wrinkles and frown lines. Because it is a more pure form of Botox, it has a lower potential for side effects or allergic reactions. "It basically works in the same manner and provides the same degree of effectiveness, which makes it an excellent replacement." – comments New You Spa manager, Jeff Nourse. The highly skilled and qualified staff of New You Spa led by Jeff Nourse also recommends using Xeomin as a substitute for Botox in treating hyperhidrosis. For this purpose, Xeomin blocks the nerve transmission to sweat glands in the armpits, or on the palms of the hands, which prevents the sweat from being produced and released. For all indications such as wrinkle treatment, hyperhidrosis, muscle spasms or migraine headaches, Xeomin as well as Botox offer temporary results, which may last between three and six months with the possibility of re-application after the effect starts to disappear.
Xeomin cosmetic treatment for deep wrinkles and frown lines starts working within seven days of application, which consists of gentle injections with a small needle in the treated area. "The result is a more youthful and smooth facial appearance that can last for months." - says New You Spa manager, Jeff Nourse. The application strategy will be adjusted individually depending on the anatomy of your face and parameters of your skin to ensure maximum results with minimal chance for side effects. If you would like more detailed information about Xeomin cosmetic treatment, don't hesitate to contact New You Spa specialists who will offer you professional advice at 416 487 7848
About New You Spa
New You Spa is a successful and growing provider of med spa services with 6 centers throughout Toronto GTA. Each New You location offers services for men, women, and teens of all skin types, including laser hair removal, skin rejuvenation, Botox® Cosmetic and dermal fillers, fractional laser resurfacing, Velashape body contouring and teeth whitening, as well as, treatment protocols for acne, vein treatments and skin tightening. All treatments at New You Spa are performed by licensed aestheticians, certified laser technicians and registered nurses, and are supervised by the clinics' medical director.