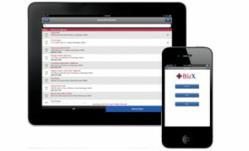 We are thrilled to give our members a new product that will make it easier for them to connect with one another and use BizX.
Bellevue, WA (PRWEB) June 18, 2013
BizX, a trusted community of businesses that uses a private digital currency in lieu of US dollars to buy and sell, announced today the official release of its mobile app that makes it safer and easier to spend and receive BizX dollars on the go.
Since 2002, BizX has offered its members a safe place to trade goods and services with other members using its digital currency, BizX dollars. After joining the BizX community, members benefit from increased sales, new customers, increased profits, lower inventory and more cash on hand.
Until recently, members had the opportunity to find other members on the BizX website or by contacting their BizX Account Manager who is responsible for making sure members get the most out of their BizX membership. Now, members can easily use the free app to find other members, send and receive payments and view their BizX account.
With thousands of active members, the BizX community is comprised of businesses from a wide-range of industries including: hotel, restaurant, media and advertising, spa and wellness, construction, and home and office improvement. Some BizX members include: Inc. Magazine, Oakland Raiders, Greater Seattle Chamber Of Commerce, Walt's Auto Care Centers, Qliance, The Melting Pot, Lunchbox Laboratory, and Cactus Restaurants.
"We are thrilled to give our members a new product that will make it easier for them to connect with one another and use BizX. This release comes at a very interesting time in the world of digital currencies. With the Bitcoin mania and the Liberty Reserve scandal, we want to ensure we effectively communicate how different BizX is from these other players," states Erik Chelstad, VP of Tech for BizX.
"In short, BizX is safe, easy, transparent and accountable…and of course, legal. We support real businesses, with a real product that helps them grow and prosper."
Chelstad adds "the original thesis behind Bitcoin was to devise a payment method based upon cryptographic proof instead of trust. BizX is a network of businesses based on trust and transparency with our own payment system."
With numerous digital currencies and trade networks, it can be confusing to choose the right digital currency for your business. Here are a few factors to consider:
1. Security and stability. Is the currency backed by an organization or government? Is it vulnerable to hacker attacks? Does the currency experience wide swings in value? Unlike Bitcoin and other digital currencies, the value of a BizX dollar (1 BizX$=1 US$) is secure and safe; It is backed by its large community of businesses using its currency to buy and sell.
2. Legal. Does the currency comply with IRS rules and regulations? BizX income is taxable in the year in which the sales occur. In 1982, the United States Congress passed TEFRA, the Tax Equity Fiscal Responsibility Act. TEFRA recognizes trade exchanges, like BizX, as third-party record keepers of barter transactions and stipulates that all BizX revenue earned is treated as income.
3. Purchase goods and services. What products and services can be purchased using the currency? It's important to research the list of participating businesses to make sure that their services and products align with needs. BizX has thousands of participating businesses representing a wide range of industries.
4. Support. Is it easy to contact the currency provider? Is support readily available? It's valuable to have access to on-going customer support. BizX offer its members a place to interact on the web, but offers customer support to help maximize the overall BizX experience.
About BizX
BizX is a trusted community of businesses that uses a private digital currency called BizX dollars, in lieu of US dollars, to buy and sell (1 BizX$ = 1 USD$). BizX members trade goods and services with other members to increase sales, attract new customers, save cash, increase profits and sell excess inventory. The simple truth is that when businesses thrive, communities flourish. This is the reason BizX exists: to empower communities by enriching trade. In 2012, BizX members used BizX digital currency to purchase $60M worth of goods and services, resulting in cash savings of $30M. Founded in 2002, BizX has offices in Seattle, San Francisco and Dubai. For more information, visit BizX.