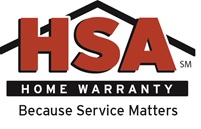 Madison, WI (PRWEB) June 13, 2013
HSA Home warranty is pleased to announce their ground-breaking participation in a recent nationally televised segment of Designing Spaces™, the popular home improvement show on Lifetime Television, to help educate homeowners on the benefits of having a home warranty. Robert Lehmann, President and CEO of HSA Home Warranty states, "we've been discussing ways to educate consumers on a national level about the importance of having a home warranty and Designing Spaces was a natural fit for us."
"This segment, focusing on ways to protect your home, offered us a great platform to illustrate the peace of mind a homeowner experiences, thanks to having an HSA home warranty," states Michael Clear, Chief Sales and Marketing Officer at HSA Home Warranty. "There is tremendous value for the homeowner to visually see what a home warranty covers and how it will help them save time and money."
HSA's own Chief Operating Officer, Micheal Herman, joined forces with Designing Spaces™ host Debi Marie to demonstrate the importance of having a home warranty, what it covers and how easy it is to use. In this episode, Micheal and Debi tour a home while talking about and pointing out specific systems and appliances that are most likely to fail and cause hardships for homeowners, especially first-time home buyers.
Designing Spaces™ on Lifetime travels the country, partnering with experts in their field, to inspire viewers with do-it-yourself projects, home improvements and ways to create a safe and secure home so they can enjoy every space in which they live. Lysa Liemer, Executive VP of Programming for Designing Spaces™, adds "we understand how important it is for our viewers to feel secure knowing that their homes are properly protected if something were to go wrong or breakdown, and HSA Home Warranty provided a great solution to our Designing Spaces audience."
Catch this segment on June 14 at 7:30 EST or watch the video now and click here to view coverage & pricing in your area and to learn more about HSA Home Warranty and our products and services.
HSA Home Warranty has been creating quality home warranty products and providing first-class service to homeowners and our real estate partners since 1984. Service to our customers is our priority - it's what sets us apart. We understand the level of service homeowners expect and we strive to exceed that by taking the time to listen to the needs of each customer. Each customer's situation is unique and requires a personalized response. HSA is headquartered in Cross Plains, Wisconsin, a suburb of Madison.